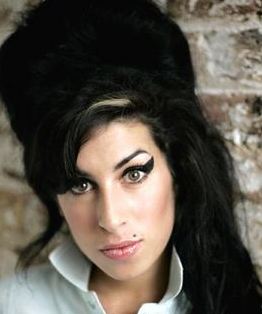 Everyone has heard now and is saddened by the death of singer Amy Winehouse. When I heard the news,  it just made me sad. I wasn't a very devoted fan, although I did like her music, I think anytime a person has as much trouble as she did it is sad when their life comes to an end. I feel like young people become famous so fast and are thrown into a world they don't know how to act in. We, the public and fans, make then instantly famous. We put them on a pedestal and at times idolize them and their image and talent.
I can't imagine how much pressure that is for a young person to deal with. Sure, it has to be really exciting being famous, hearing your music on the radio, walking onto a stage at a sold out show and having fans scream your name. The feeling has to be unreal, but it often times has to come with a price. Along with all the perks, these musicians also have to give up their privacy. Their life isn't just theirs anymore. Their image is on display and they have to know that as quickly as they became famous, loved, and adored, they can also lose it just as fast.
There is always a sense of sadness when someone you have become to know through their talent and fame loses their life in a battle they can only fight themselves. I can't imagine how helpless those around people fighting such demons feel. No matter how much you want to help them, it is their fight alone.
I saw Katy Perry on "Good Morning America" this morning and in her interview they were asking her about her and her husband, Russell Brand's reaction to the news. She of course said they were saddened to hear, but then she told about how she sees her husband work everyday living clean and sober. He wrote either on his facebook wall or on twitter about the phone call you get from someone in so much pain and trouble. He said you either get the phone call that they are ready to get help, or you get the phone call that you have lost them. He said either way, there is a phone call. I had never heard it put that way before, but it does make sense.
The point was also brought out today about how many musicians have died at the same age of 27. That is a really interesting fact and I don't really know what to make of it. There is a list of all of them.
BRIAN JONES
The guitarist and founder member of the Rolling Stones was found dead at the bottom of a Sussex swimming pool on July 2, 1969. Alcohol and drugs were found in his system. The coroner reported death by misadventure.
JIMI HENDRIX
The legendary electric guitarist collapsed at a party in London on September 18, 1970, and later died of suffocation brought on by a barbiturate overdose.
JANIS JOPLIN
The American folk singer died of a heroin overdose, possibly combined with the effects of alcohol. She was found in her Hollywood apartment on October 4, 1970.
JIM MORRISON
A prolific drug-taker, The Doors' frontman died of heart failure while taking a bath in his Paris apartment on July 3, 1971. The previous day, he had complained of regurgitating blood. His death certificate states he died of "natural causes".
KURT COBAIN
The troubled lead-singer of American grunge rock band Nirvana shot himself in the room above his garage in his Seattle home on April 8, 1994. The previous month, he had survived a drug and alcohol-induced coma.
RICHEY EDWARDS
The lead guitarist of Welsh band Manic Street Preachers disappeared in December 1995, prior to the band's tour of America. His body was never found, but he was officially presumed dead in 2008.
AMY WINEHOUSE
The five time Grammy winner struggled for years with drug and alcohol abuse. She was found dead July 23, 2011. Police have not yet determined how she died.
This is a sad subject and brings up feelings of a lot of people. No family is immune from loved ones that fall into addiction and just can't seem to get themselves out of their pain. It is too often a reality, especially with the young. Amy Winehouse touched a lot of people and just maybe this news will inspire someone in trouble to find a way out. I hope so. It has to be a terrible way to exist and it is so, so painful for loved ones to watch. By the way, in Katy Perry's interview, she coincidentally said Russell Brand got clean when he was 27.
source: poponthepop.com