?
What does happiness mean to you?? Happiness can mean different things to different people.????For some it may be a large bank account, a fulfilling career, a colorful sunset, the smile of a child, the perfect significant other or even a warm puppy.???Happiness is what you make it to be.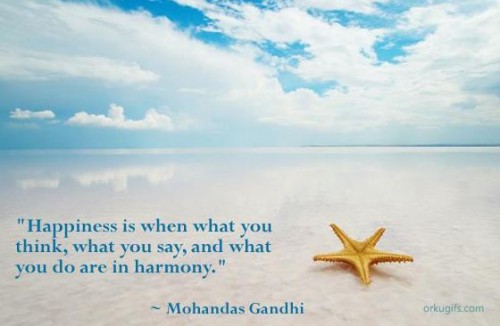 "There are as many nights as days, and the one is just as long as the other in the year's course. Even a happy life cannot be without a measure of darkness and the word 'happy' would lose its meaning if it were not balanced by sadness." -Carl Jung
?The most wasted of all days is one without laughter." – E E. Cummings
"To be happy, do not add to your possessions, but subtract from your desires." -Unknown
People take different roads seeking fulfillment and happiness.? Just because they're not on your road doesn't mean they've gotten lost.? ~H. Jackson Browne
Realize that true happiness lies within you. Waste no time and effort searching for peace and contentment and joy in the world outside. Remember that there is no happiness in having or in getting, but only in giving. Reach out. Share. Smile. Hug. Happiness is a perfume you cannot pour on others without getting a few drops on yourself. `Og Mandino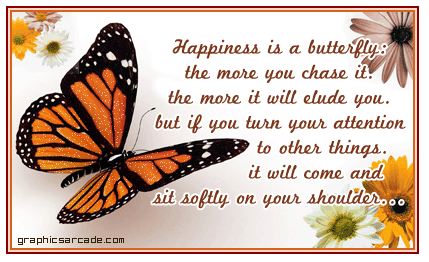 Happiness is like a butterfly which, when pursued, is always beyond our grasp, but, if you will sit down quietly, may alight upon you.? ~Nathaniel Hawthorne
Happiness and sadness run parallel to each other.? When one takes a rest, the other one tends to take up the slack.? ~Hazelmarie Elliott (?Mattie?)
We tend to forget that happiness doesn't come as a result of getting something we don't have, but rather of recognizing and appreciating what we do have.? ~Frederick Keonig
Happiness is the meaning and the purpose of life, the whole aim and end of human existence.? Aristotle
Those who are not looking for happiness are the most likely to find it, because those who are searching forget that the surest way to be happy is to seek happiness for others. ~Martin Luther King, Jr.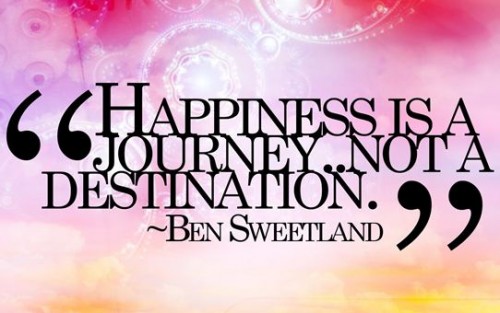 ?Gratefulness is the key to a happy life that we hold in our hands, because if we are not grateful, then no matter how much we have we will not be happy ? because we will always want to have something else or something more. ~Brother David Steindel-Rast
?Happiness cannot be travelled to, owned, earned, worn or consumed. Happiness is the spiritual experience of living every minute with love, grace and gratitude. ~Dennis Waitely
?If you want others to be happy, practice compassion. If you want to be happy, practice compassion. ~HH The Dalai Lama
?Happiness cannot come from without. It must come from within. It is not what we see and touch or that which others do for us which makes us happy; it is that which we think and feel and do, first for the other fellow and then for ourselves. ~Helen Keller
People spend a lifetime searching for happiness; looking for peace. They chase idle dreams, addictions, religions, even other people, hoping to fill the emptiness that plagues them. The irony is the only place they ever needed to search was within.~Ramona Anderson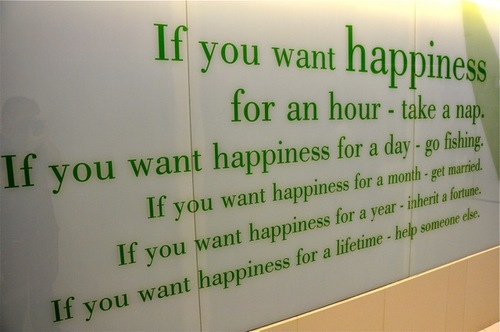 Happiness is not a goal; it is a by-product.? ~Eleanor Roosevelt
Happiness is a direction, not a place.? ~Sydney J. Harris
?Of all the things you wear, your expression is the most important.? ~Janet Lane
If you want to be happy, be.? ~Leo Tolstoy
?Nobody really cares if you're miserable, so you might as well be happy.? ~Cynthia Nelms
For me,?happiness is here, all around me, every day.?? I just have to decide wheter or not to embrace it.? I am fortunate and I know this.??I realize that some of the?things?we wish for?won't bring?happiness. It might bring?temporary enjoyment or things that would be nice, but it won't bring true happiness.?? I decided to embrace what's around me!?
Be Happy!
?
For more Quotes I?ve gathered, just click on the?link ???> Quotes!