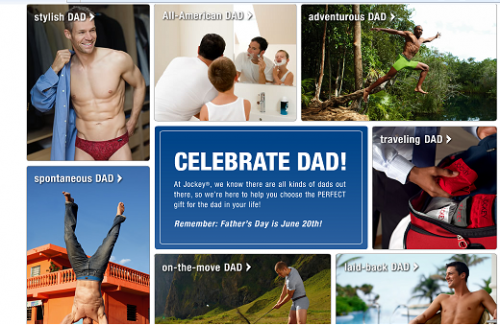 Father's Day is just around the corner and what better way than to surprise your guy with something he really needs.  Essential gifts are always a hit when shopping for the perfect gift  for the DAD in your life, especially if you find one that is both comfortable and versatile.  So why not give DAD just that this Father's Day.  A gift he'll sure to LOVE! 
Jockey has great line of gift ideas that would suit EVERY kind of dad…
The Stylish Dad
 All- American Dad
Adventurous Dad
Spontaneous Dad
Traveling Dad
On-The-Move-Dad and
Laid back Dad
 On any given day, my husband can be any of the above, so shopping for him should be a breeze.  Just recently, he had the opportunity to tryout a few of the products first hand.  He received the Classic Crew-neck t-shirt and Classic A-shirt for review.  Right out the box, he was impressed by how soft they were.  Although the size we received was not his actual size, he was still able to try it on for a test drive.   He usually like his t-shirts with a bit more room for breathability but even with that issue, there was no doubt that these shirts were of very good quality.  Since my husband is a complete T-Shirt guy, I knew I would know almost instantly wheter he liked them or not.  Well, he did!!!  All snug and exact, he said they were very comfy and felt good on his skin.  Now only imagine if it were the correct fit, it probably would have been "love " at first fit.  Comfort is everything to my guy, and there was no question of how comfortable these shirts really were. And the best of quality too!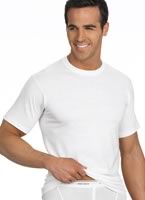 Jockey®  Classic Tag-Free Crew Neck T-shirt
The Jockey Classic t-shirt is tag-free and has a relaxed fit that wears well under dress or casual shirts.   He loved that it's  versatile and comfy.  You can wear it alone or underneath another shirt comfortably.  Definitely a great choice for your hubby or Dad.
The reinforced collar and lightweight material offers long-lasting shape and breathability. You can rely on this tee for complete comfort for everyday wear.
 Price: $24 for 3 packs of white tees.  Also available in a 6 pack value.  Click here to see available colors and sizes.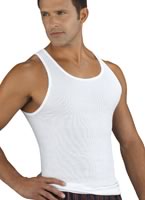 Jockey ® Classic Tag-Free A-shirt- 3 Pack
The Jockey Classic A shirt is also tag free.  My husband thinks this is a plus for any type of shirt.  He can remember the days of having to cut out the tags in most of his shirts because they were so annoying.   With a Tag free shirt that is a problem of the past. 
 This Tee was designed with both comfort and style in mind.  Not only does it come in a 2 x 1 ribbed knit for stretch, it is also 100% cotton giving you a light and breathable wear. .
You can purchase them online at Jockey.com for $19 for a 3 pack.  Also available in a 6 pack value. 
Also available are Fashion Boxers: Choose the colors, prints or patterns that best suits Dad's unique personality. Boxers are sold for $15.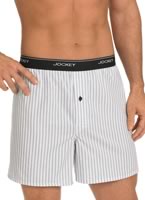 This Father's Day give Dad something he really wants by spoiling him with comfort and quality.  Jockey's Classics collection provides Dad with endless ways to help him be comfortable not only on his special Sunday, but every day.
Thanks to Jockey for providing the Classic Crew-Neck T-shirt and Classic A-Shirt for review.