Disclosure: I am participating in this program on behalf of ConAgra Foods and The Motherhood. ?All opinions, as always, are my own.
It can be easy to take the food we have for granted, but did you know that 16 million children in the United States don?t know where their next meal will come from? That?s one out of every five kids, and enough children to fill 8,000 playgrounds. I can?t imagine not being able to feed my children and seeing their sad, hungry face. Being hungry robs kids the chance to really experience childhood, and to play, grow, and learn.
But there?s hope?ConAgra has teamed up with P&G to bring awareness to child hunger and to build a community of people, like you and me, who will work together to make a difference and donate 7 million meals through the Child Hunger Ends Here Campaign. Yes, it?s a big goal, but when we band together, great things can happen.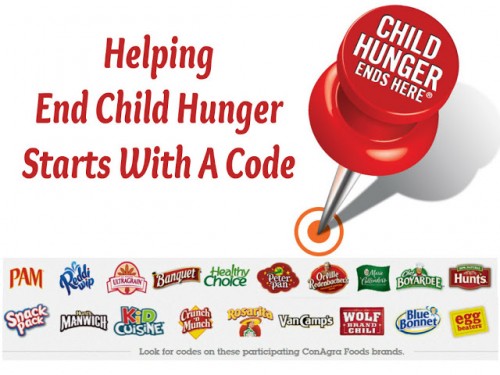 You can help make a difference and donate up to seven million meals to kids in need. There are three easy ways to get involved and make a difference:
1. Enter Codes. Look for a red pushpin on participating packages of ConAgra and P&G products, then enter the unique code inside at www.ChildHungerEndsHere.com from March-August 2014. For each code entered, the company will donate one meal to kids in need.
2. Join the online conversation about child hunger. Visit Child Hunger Ends Here on Facebook or follow them on Twitter or Instagram at @ChildHungerEnds. You can raise awareness and spread the word about this great campaign.
3. If you live in Texas, ConAgra Foods and P&G are donating an additional 100,000 meals to local food banks on behalf of H-E-B. Shop at your local H-E-B to show appreciation for their dedication to ending child hunger. H-E-B will also put many of the items with meal codes on sale over the next few months to make it even easier to donate.
Lets help end Child Hunger Together
Child hunger is an epidemic in many parts of the United States, but it doesn?t have to be. If we each do our small part, we can help hungry kids and give them back full bellies and their childhood!
I am going to do my part by buying a few of the great deals going on at H-E-B and inputting those codes to help out. Every little bit helps.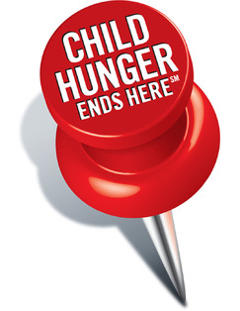 What will you do to help end child hunger?