Gathering with friends and family to watch your favorite football team seems to be a traditional fall pastime for many Americans. There?s just something about dressing up in your favorite player or team?s jersey, hanging out with great people, eating delicious food, and cheering on your team. It brings people together in a way that only die-hard football fans understand, whether you and your friends are rooting for the same team or a rival team. So, it makes sense to plan, prepare, and throw an ultimate football party anytime during the season and enjoy the game even more with the friends and family you love. It doesn?t have to be the Super Bowl to throw an amazing party. It can just be a Sunday night party time. Whenever you choose to throw your party, you can use these ideas to help you have the best football party on the block.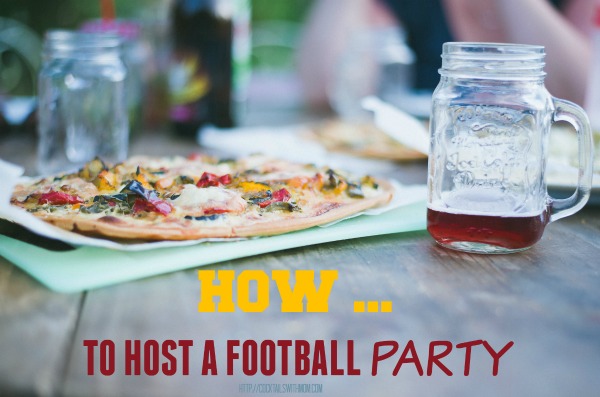 1. The Game
The game is the centerpiece of the party, of course, so let's start there. With ?your high-def 60? flat screen TV, quality surround sound system, and lots of seating, you and your guests will have a comfortable, front-row experience in your den or living room. Make sure you have enough seats to comfortably accommodate all of your guests. While folding chairs are always helpful, recliners, beanbag chairs, and even large throw pillows fit the bill for comfortable seating. Just make sure there?s enough of it.
2. Team Spirit
A football party really isn't a football party without team spirit. Cheer on your favorite team by dressing up in your team colors, or throw on a favorite team jersey! Those little hand-held team flags or those big foam fingers like this one would sure be fun. And for some really life size fun, A life-size? cutout of a football player in your team's colors would be a welcome addition to the party, too.?? True football fans would also go the route of dressing up their new truck or car in team colors.

3. Game Grub
What goes naturally with watching sports? Eating, of course! Good food is a must have at a good party. Some favorites to keep guests fueld up include things like wings, subs, chips and dip. Keep chili or nacho cheese dip warm throughout the game in a crock pot or oven-safe bowl.
4. Game Drinks
A football party without drinks? That is not happening at all. Drinks and football go hand-in-hand, so be sure you are well stocked. You will however also want to have a variety of choices?like soft drinks, bottled water, and ? sports drinks? on hand. Get out your? football-themed glasses?and serve drinks in style.

5. Entertainment
A party is never really a party without entertainment. Although everyone will be tuned into the game. There will be a need for before and after game entertainment. Good tunes always make a party come alive. A wireless bluetooth speaker is a plus for all of your jams. A sound bar and subwoofer can give you the full sound experience for the game.
There you have it! Now you're ready for kickoff!
Save
Save