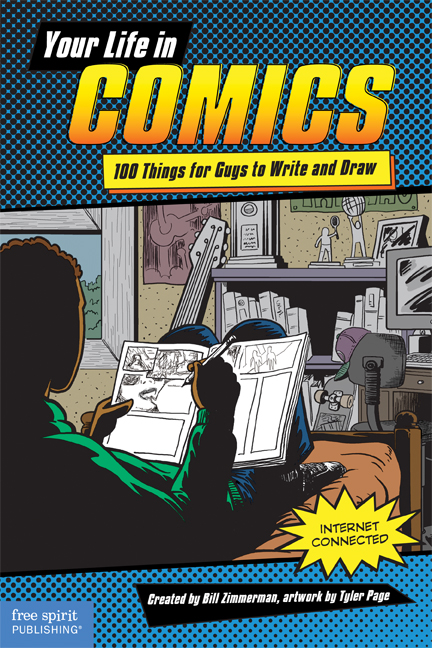 Your Life in COMICS : 100 Things for Guys to Write and Draw by Bill Zimmerman targets boys ages 9-13 that uses uses comic book prompts to encourage young boys to express themselves and be creative through writing.  Rather than provide the plot, this interactive book allows readers to decide what happens by using words and drawings of their own invention.
This do-it-yourself comic book can be a source of fun that also gets boys thinking about important topics in their lives, including family, friends, school, health, and the future. The book can be used independently or for reading, writing, or behavioral support, whether in school, youth groups, or as part of a home library.
Your Life in COMICS includes completed comics where boys can dictate what happens through dialogue—an ideal way to express thoughts that might be difficult to verbalize.  Other activities encourage guys to draw full comic strips, and freestyle activities let them personalize the book. Boys can use the unique format simply for lighthearted artistic efforts or for more meaningful and personal expression, similar to a journal.
Features of Your Life in COMICS include:
• Graphic-novel-style illustrations
• Fun drawing and writing activities that can engage for hours
• Exercises and prompts that encourage guys to explore thoughts and attitudes
• Chronicling of tween years that can become a treasured keepsake
• Website extensions pointing the way to fun, interactive online resources
My thoughts
If there was one word I could use to describe how I feel about the book, Your Life  in COMICS that word would be pleased.  VERY PLEASED!  I am a firm believer in both reading and the whole creative process.    One of the things, I love most about my boys is there great imagination and Your life in Comics has helped them bring it to full circle.   They have literally been glued to this book and I have seen their great since of humor come out as well. 
The boys have always had an interest in reading…thats no secret but now that they can create their own comics is truly fascinating.  Not only for them but me too!   I've enjoyed reading their stories as much as they have writing them.  This has really given my boys a new outlet and I cannot be happier.   I know the suggested age states 9-13 but my 7 year old has really been enjoying it as well.  In fact, he would go nonstop if I let him. 
Your Life in Comics is definitely a big hit with the boys and I think this book would make a great Christmas Gift for all young boys on your list.
Reading level Grades: 3-4
Interest Level Ages 9-13
Publisher: Free Spirit Publishing (October 5, 2010)
Created By:  Bill Zimmerman
Language: English
Soft Cover
Buy It
Your Life in Comics can be purchased directly from Free Spirit Publishing's online store. or at Amazon.com
Price
$9.99
WIN IT!
ONE winner will receive a copy of the book Your Life in Comics.  100 Things for Guys to Write and Draw
HOW TO ENTER. (MANDATORY)
To enter leave a comment on this post telling me who you'd give this book to if you won.
Extra Entries!
(Post in a separate comment for each additional entry.)
Subscribe to Cocktails With Mom via email or RSS feed
Follow me on Google Friend Connect (on the right sidebar)
Like Cocktails With Mom on Facebook
LIKE Free Spirit Publishing on Facebook
Blog about this giveaway then leave me the link! ( 5 entries)
Enter one of my other Holiday Giveaways   (1 entry)
Add our text link or button to your blogroll (5 entries)
Add my Holiday Gift Guide Button to your sidebar (3 entries)
Follow Cocktails With Mom  and @judyfreespirit on Twitter and Tweet about this giveaway! ( once Daily)
Enter to win a copy of Your Life in Comics 100 Things for Guys to Write and Draw @momcocktails @judyfreespirit http://bit.ly/bfHslk  open to US/Canada
  STOP!
You MUST leave your email address in one of the comments or have it in your profile so I can get in touch with you.
Contest is open to US & Canadian residents. Contest closes November 17, 2010 11:59pm (CST). Winner will be chosen via Random.org. Winner has 48 hours to respond to my notification email, or a new winner will be chosen.
This item is featured in our 2010 Holiday Gift Guide. Be sure to check back often and don't forget to visit the Gift Guide at What's That Buzz to see what she had to offer.
Disclosure: I received a copy of Your Life in Comics from Free Spirit Publishing at no charge in exchange for a review of my opinion. The opinions expressed are my own personal and honest thoughts. No other compensation was given.