I am the coffee queen in my social circle.  Whether it's at the local cafe or at home, only the best passes through my lips, and I'm always up for trying a new blend or specialty.  So it's a given every year that I will find a coffee blend of some kind under my tree from my family and/or friends and this year my wish list includes varieties from The Coffee Bean & Tea Leaf.
I was able to try a number of products from their Holiday Gift Line Up and want to share a few of them with you.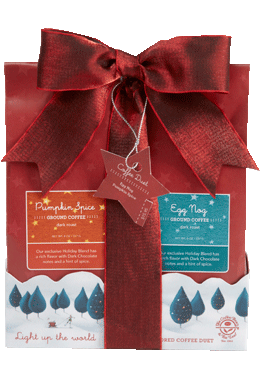 The first is the Flavored Coffee Duet.  A gift set that brings warmth and joy to the holiday season. Celebrate with a duet of special Pumpkin Spice coffee and Egg Nog coffee in 8oz packaging.  For $15.95 these coffees aren't just a perfect gift for the flavored coffee lover, but they would be great to serve for dessert for Thanksgiving or Christmas dinners.  I really enjoyed the Egg Nog flavor, as it isn't overpowering.  The flavor is just perfect, and for those that enjoy a creamer with their coffee, adding an Egg Nog flavored one to the Egg Nog Coffee would top it off perfectly!
If you know of a Mocha fan, or are one yourself, you'll want to add the Cafe Mocha Gift Set to your list.  For $17.95 you get an 8 oz bag of The Coffee Bean & Tea Leaf Holiday Blend coffee,  8oz Special Duetch™ Chocolate Powder, 17oz Ceramic Recipe Logo Mug and a mini whisk.  Seriously, you can make yourself a coffee shop Mocha without leaving your home.  Not much tastes better than drinking that in your PJs!  The instructions on the mug are so easy to follow (and always there right in front of you so you can't misplace them!)  Take a look at the yummy Cafe Mocha I enjoyed today.
If you're not so much a coffee person and enjoy a good Chai instead.  You know that The Coffee Bean & Tea Leaf has you covered for gift giving as well, with their Winter Dream Tea Latte Mug Set.  You can have fun creating your own tea latte at home! Using their Winter Dream Tea® and French Deluxe™ Vanilla Powder, and following  the directions on the ceramic mug to whisk up a delightful holiday treat.  The set includes: Winter Dream Tea  Tin (20 bags) , 8oz French Deluxe™ Vanilla Powder, 17oz Ceramic Recipe Logo Mug and a mini whisk.  This set is also $17.95.
These gift sets as well as many more holiday products are available at your local The Coffee Bean & Tea Leaf locations.  If you live somewhere they don't have a retail shop you can order them online. You can also purchase on Amazon.