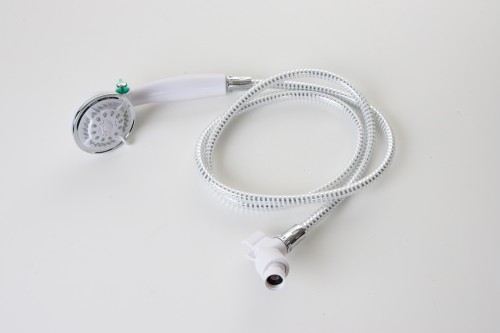 With Earth Day 2010 just around the corner, lots are consumers are in the?eco-concioius ?state?of mind and are seeking more and more eco-friendly products.?? Going ?green? may sound intimidating to some but in fact it can be an easy choice if you put your mind to it. ?I won?t say that I?m one of the ?greenest? people, but I am making a conscious effort to do better.
I?ve found that one quick and easy step you can do to become more Earth friendly is to purchase an eco-friendly showerhead.?? ??It?s a very easy step that can help you preserve water and SAVE you money.??? Just recently,?? I?ve had the opportunity to try out a Green Choice Showerhead?? which allows you to control your water pressure with an easy thumb dial.? How it works is that, while you?re lathering yourself, you can turn the water dial down and still?receive enough water to stay warm.??And then, just?turn the pressure back up to normal as you rinse off.? You can also choose to put the water on ?hold? if that works better for you- another great way to save water while in the shower.? In 2009, the U.S. Department of Energy calculated that a family of 4 spends over $400 each year on showers alone (?based on a?10-minute shower).? According to ShowerTek, water flow set to 1GPM instead of 2.5GPM, can literally cut your bill your bill in half.? Now I'm all about cutting costs and saving a dollar, what about you?
?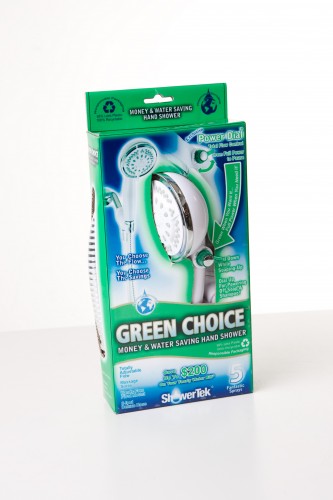 ?In my opinion , I ?think the Green Choice Showerhead is a practical choice for those wanting to conserve water and energy .?? In fact, I think it?s a great choice for both environmental and economic reasons.? You'd be amazed just how the ?little steps can make a difference.
Here are some of the Product features I like about this product:
Totally Adjustable Water Flow
One-Hand Height Adjust
Stainless Steel Hose
Hands-Free Hand Shower Pivot Mount
Choice of? Water Flow
Gentle flow for kids & pets
Annual water savings up to $250
To learn more about the ShowerTek Green Choice?Showerhead and the other line of Showertek?shower heads, head on over to : http://www.showertek.com/?to learn more.
I received a Green Choice Showerhead for ShowerTek for the purpose of this review.? No other form of compensation was received and my opinion was not persuaded in any way.