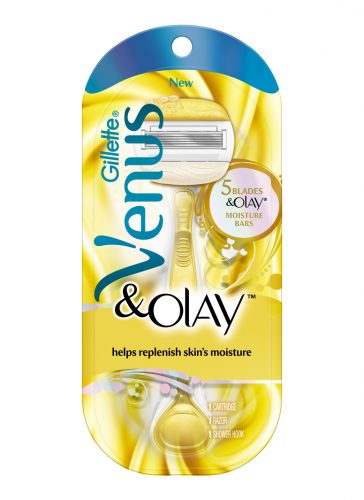 When it comes to shaving,  all women want are legs worth flaunting!   Keeping your legs swimsuit ready can give a girl a boost of " I feel good about myself"  which one can never get enough of.
For the first time ever, Gillete Venus and Olay have come together and created a new gold standard in shaving.
The new Venus model features improved moisture bars with Olay hydrators that help the razor's blades glide across the skin giving you the perfect combination of smoothness and moisturizing goodness.  It is most definitely one of my favorite new products I've tried lately.
According to Venus research, 60 percent of women claim skin concerns when it comes to shaving, including dryness, irritation, nicks and cuts.  Are you in that number?
With the new Venus and Olay shaving technology, women can get the best-of-both-worlds when it come to shaving and skin.
Venus' five-bladed razors shave you close and adjust to women's curves for a smooth and comfortable shave, even over tricky shaving areas like knees and ankles.
Olay Moisture Bars contain skin-enhancing elements found in Olay products: Petrolatum helps lock in skin's moisture for less drynessand Glycerin helps offer that goddess glow! Just wet the razor to release a light lather – no separate shave cream required.
As with most Venus razors, new Venus & Olay also features a rounded, pivoting head designed for women's curves, and a soft-grip ergonomic handle for confident control, even in wet and soapy environments
 Where you can get it:
A refillable Venus & Olay with one replacement cartridge sells for approximately $8.99-$10.99. Packages of three replacement cartridges are available for about $14.99 – $19.49 at food, drug, convenience and mass merchandise stores throughout the United States.