If you ask anyone I know, they will tell you that I am always up for a ?Good Movie!"? Especially, if it is content my whole family can enjoy.?? When it comes to Family Movie Night in our house, there is certain criteria the movie must meet.
1.? It must be something appropriate for the boys.
2. It must be something?we all can?enjoy
3.??It must be one of good quality.
Proctor and Gamble and Walmart ?have won me over once again with?their upcoming?Family Night Movie, ??Game Time: Tackling the Past? that will premiere next Saturday, September 3rd on NBC at 8pm/7ct. ?I was excited to get a sneak preview of the movie before it airs next week and do highly recommend it.
For those of you who love a good movie, here is a short synopsis?of what to expect and get you in the mood.??Also don't forget to take a sneek peak?at movie trailer below.
Pro football star Jake Walker is living the life and is just one season away from setting an all-time receiving record that will guarantee him a spot in the Hall of Fame.? Things could not be going better for Jake, well that is, until he gets news that his father has suffered a serious heart attack and is prompted?to leave training camp?returning to Riverton, the small hometown he's managed to stay away from for? nearly 15 years.
Upon returning home, Jake is forced to reconnect with the family and community he abandoned years ago in pursuit of his career that has?past memories of glory and regret resurfacing. Just as things start to settle down at home, Jake receives yet another unexpecting call that his contract is not being renewed.? Facing the realization that the one thing he cares about most is no more, Jake begins to?realize?that there is more to life than fame, money and personal stats.? With a?lucrative?new contract with another team now on the table,?Jake must decide whether to go back to the career he thought he loved, or stay in Riverton and choose family and community? over fame and money. "Game Time: Tackling the Past" is a thought provoking movie that the whole family can relate to and enjoy.
THE CAST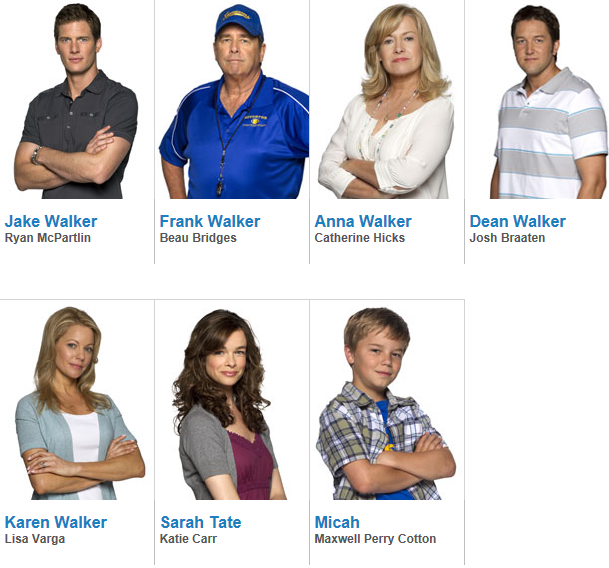 SNEAK PEAK
MY THOUGHTS
I?really enjoyed this movie and have intentions on watching it again when it premieres on Saturday.?This time along with the?entire family.??Sports themed movies are very popular in our household and believe me, we?have watched our fair share of them but?this one is?different.?? It has a lot more substance than a typical sports movie and I like that.? I?ve always been a fan of feel good movies and stories that teach a less or at least make me think about things.???Game Time:? Tackling the Past does just that?and?with the start of a new football season, the timing could not be better.
The story and acting in this movie?is?excellent.???The relationship between Jake and his family brought up some very important moral?issues that?are common amongst many families.???The movie tackles a very important lesson on how important team work is both on and off the field and?that there is no "I" in team.? ?There are?several teachable moments in this movie and it is a great opportuity to open up a dialogue with your kids.? This is a good one indeed so?I'm sure you'll want to gather the family, pop some popcorn?and?watch a movie everyone will enjoy.
You can find out more information about the movie at the official?Family Movie Night website or the Facebook page..
Disclosure: I wrote this review while participating in a campaign by Mom Central Consulting on behalf of P&G and received a promotional item to thank me for taking the time to participate.