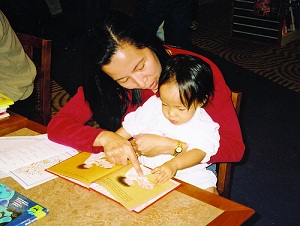 The summer is coming, and with it months of freedom for kids who may quickly become bored without the structure of school to keep them busy.  Instead of letting your children lounge around the house all day, watching TV, texting, and Tweeting about their utter boredom, find some fun and educational activities to keep them occupied.  Whether they're engaged in summer reading, a recycling program, or field trips to museums, you can trick them into keeping their brains functioning at full capacity so that they can ease back into school come fall.
Nature hikes.  This is good for younger and older kids alike.  It will not only get them outdoors, exercising and breathing fresh air, but if you bring along guidebooks for native plants and animals, everyone can learn a little something along the way.  Check in with your local community center to see if guided hikes on local trails are offered throughout the summer (you might even find night hikes that show an entirely different natural world than the one we see in daylight).

Natural history museum.  Museums of fine art may be a little too highbrow for most school-age children.  Instead, take them to the natural history museum in your area to discover the origins of man, see dinosaur bones on display, and explore ancient cultures.  Many museums have informational tours as well as classes for kids, interactive media, and special exhibits on rotation (meaning you can go more than once during the summer).

 Zoo or aquarium.  If you have either (or both) of these attractions nearby, you should definitely plan for a visit.  Not only will your children get to see animals from across the globe (although sadly, not in their natural environment) but they can learn all kinds of fun facts from tour guides, videos, and even the plaques posted by the cages.

Bookmobile.  You can easily find out if your local library has a bookmobile program in your area so that your children can check out books on their own, without having to schlep all the way down to the library.  If not, arrange to take them once a week for new books to keep their imaginations alive (and their vocabularies growing) throughout the summer.  You might even look online for a summer reading challenge they can participate in.

Recycling blog.  Start an at-home recycling program and take your kids to the center to see how doing a good deed for the environment can show a monetary return (to boost their allowance).  Then have them start a blog to chronicle their adventures in adopting an eco-friendly attitude, and challenge them to try to live every day a little greener.

Volunteer work.  Some people may not view this as an educational activity, but every child should learn to have compassion, tolerance, and charity for those who are less fortunate due to economic, social, mental, or physical limitations. Teens can look into mentoring or becoming a

home tutor

.  Young children may not benefit as much from an introduction to volunteer work, but it's really never too soon to instill a sense of social responsibility in your children.