When I was kid I remember my mom making sure we were getting plenty enough liquids when it seemed we were coming down with a cold.? O.J. which is filled with vitamin C, happened to be my favorite liquid of choice.? Now that I am a mom myself, not much has changed, I?m?following in her footsteps and just?like she did, I'm filling my kids up with lots of fluids just the same. ?Now that my kids are schooled aged, it seems like we are constantly fighting colds around here.? When the cold and?flu bug hits around here, I seem to be taking care of everyone around here, but I?m on my own when it?s my time for someone to take of me.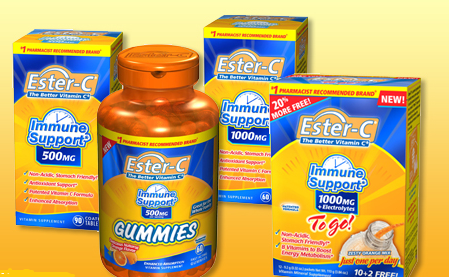 Recently I was given the opportunity to try Ester-C.? Ester-C is a vitamin C supplement with immune support that is designed to provide you with the antioxidants you need to support your good health.
I?ve been taking the Ester C vitamin supplement for over a month now and I noticed a difference in how I feel.? I?ve always been one to take supplements to help improve my overall health.? I believe what you are missing from your diet you can get it from a supplement.
More about Ester C:
The Ester-C can also support:
?Heart health
?Antioxidant health
?Bones, joints and gums
?Healthy circulation and blood vessels
?Hair, skin and nails
Now that I?ve been taking the Ester-C, I feel like I?m doing something right for my body by giving me a bit of extra defense to help keep me healthy.
For those of you who are not a fan of taking pills, Ester-C makes packets that you can mix with water and take daily for your dose.? The packets are convenient and great for travel.?? The flavor is pretty good also, and it dissolves easily too.???Ester-C uses a special process to make their vitamin C so that they are non-acidic and are gentler on the digestive tract, and their patented ingredient makes for quicker absorption.? Wheter, it's the pill or liquid form, I, really enjoying getting my daily dose of vitamin C.
Be sure to register on their site and receive a $2 off coupon toward you next purchase of ester-C.
Disclosure ? The product featured above was provided free of cost to me by the manufacturer or representing PR agency. These opinions expressed are my own opinions and are NOT influenced by monetary compensation.