If you know anything about me, you should know that I definitely go gah gah over candles.   I've bought so MANY candles over the years my husband thinks I'm addictive.  Well, I want go that faras saying  I have an addiction, but I do love the ambiance they create.  The thing I've learned; however, is that not all candles are created equal and I've come to like some better than others.  In fact, I thought I've tried them all until I heard of PartyLite Candles.
PartyLite just recently introduced a brand new candle called GloLite which I had the privilege of testing out.   The fragrance I received was called Calm Waters.™ which came in a set of 3.   The scent was perfect!  It was a clean, cool citrus scent with a soft touch of florals which reminded me of a serene ocean breeze.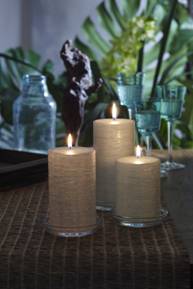 What I love about the GloLite Pillars is that each candle is handmade and have a mottled surface that looks very textured and organic.  Unlike typical pillars, these illuminate from top to bottom right after you light the wick.  The glow is kind of mesmerizing, and grouped together they're pretty gorgeous. 
I have absolutely fell in love with my GloLite Pillars from PartyLite.  I have always considered candles to be romantic and add just the right amount of ambiance to any room, but these are different.  These are beyond gorgeous when lit.  When you light the wick the entire candle just glows making it very elegant and calming.  These candles have to be something special for my husband to even notice.  I think he enjoys them just as much as I do. Well, not quite, lol.
The Details
GloLite from PartyLite, come in three sizes:
3"x4" (lasts 40-55 hours) – $14.95
3"x5" (lasts 60-75 hours) – $16.95
3"x6" (lasts 85-105 hours) – $18.95. 
Each size is available in two light and fresh fragrances:

The white candles feature Sea Salt & Driftwood.™ The scent of salty air blends with watery notes and warm driftwood for a clean, calming fragrance, like a shower of sea spray, gently misting the coastal air.
The blue candles feature Calm Waters.™  This clean, cool citrus scent tempered by soft, floral nuances washes over you like a serene ocean breeze. 
PartyLite also has an array of candle accessories, warmers, air care décor and bath and body products for your relaxation needs.  GloLite Pillars from Partylite are highly recommended.  They would add a special touch to any home.   See for yourself!
 For more information, you can purchase them online at: www.partylite.com or call 1-888-999-5706.