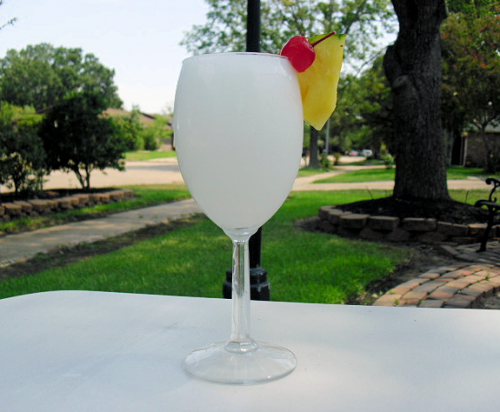 Since today is Friday, I wanted to share with with a quick and easy recipe for Easy Pina Colada Smoothie. I'm not much of a drinker so this version is non-alcoholic.  But, but don't worry, for those who would like an added kick, I added a tip at the bottom that may be more to your liking.   :)
I haven't shared a smoothie recipe in a while, so an urge came over me today.  First, I looked to see what ingredients I had on hand.  Hmmm…not much there, I SO need to make a grocery run. With the heat index as high as it got today, ummm, I don't think so.  I checked around and suprisingly had a can of pineapple chunks, coconut milk and some pineapple juice which landed the idea of pina colada.  
Being that I love Paula Deen,  I pulled up one of her recipes and figured I would start there.  The recipe called for a few things on the list I didn't have, but with a few modications it STILL came out PERFECT!  The easy part of this recipe really stands true.  It took me only a couple of minutes and……
I think it came out DELICIOUS!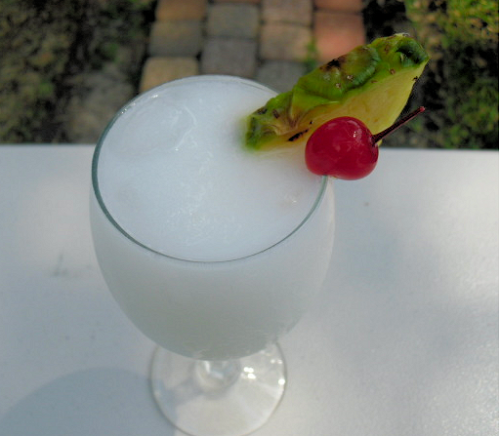 Pina Colada Smoothie
slightly modified from Paula's Smoothie Recipe
1/4 cup pineapple chunks
1/4 cup pineapple juice 
1 cup coconut milk
about 2 cups of  ice, or enough to half fill the blender
1 slice of pineapple, optional
1 cherry, option
Instructions
Place ice, pineapple chunks, juice and coconut cream into a blender, mix and serve.
As I mentioned above the  cherry and slice of pineapple is optional for garnishing.  Also, for those who would like to spice it up a bit and add a little buzz, you can add some rum to your liking. 
Enjoy!