With Earth 2010 upon us, HP is helping families and consumers celebrate by reducing their impact on the planet with innovative eco solutions and products designed to keep households green and save precious natural resources?from the HP Eco Highlights Labels on products to its Planet Partners program for product reuse and recycling as well as innovative printing solutions.
As part of the Earth Day celebrations, I?d like to share with you some solutions from HP that help consumers make smarter environmental choices without compromising on style and quality:
Printing Solutions
With the ENERGY STAR? qualified HP Photosmart Premium Fax All-in-One, you can use 30 percent less energy (compared with using a printer, fax and scanner separately), save money and help reduce your environmental impact. As HP?s first Digital Living Netowrk Aliance (DLNA) Certified Printer, users can print wirelessly from PLAYSTATION3 (PS3) and other devices. The printer also allows consumers to easily fax and copy two-sided documents using the duplexing automatic document feeder for up to 50 percent paper savings. With an ?Eco-tips? button to learn ways to print more responsibly, the HP Photosmart Premium Fax All-in-One is the perfect solution for printing lab-quality photos, laser-quality documents and vivid color graphics while reducing your impact on the environment. Available for $299.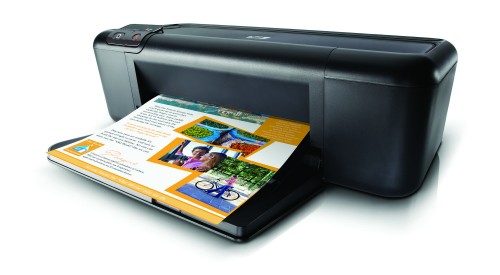 ?The ENERGY STAR-qualified HP Deskjet D2600 Printer is an affordable, easy-to-use, energy-efficient solution made of 50 percent recycled materials. With just three one-touch buttons and a simple set-up, this printing system is ideal for printing homework assignments, creative projects and photos, thanks to its paper-saving printing option, allowing customers to print multiple pages on both sides of the paper. Available for $49.?The HP Officejet 7000 Printer is HP?s first entry-level wide-format printer with individual inks. The HP Officejet 7000 Printer offers the lowest cost per page among in-class inkjets, and up to 40 percent savings on printing costs and energy use. Ideal for the entrepreneur or small business owner, the HP Officejet 7000 is perfect for creating business documents and marketing collateral in a variety of sizes. Available for $229.
?HP Staples EcoEasy Edition Printers are ENERGY STAR-qualified and combine HP?s environmentally friendly technology with Staples? ongoing environmental commitment to help customers save resources. With every printer purchased from the line, Staples will make a donation to Carbonfund.org, equivalent to the average energy consumed over three years of product use.
HP Creative Studio
Celebrate Earth Day beginning at home with free eco-friendly tip sheets and around-the-house eco reminder sticker kits from HP Creative Studio that remind us that even the smallest changes matter. Revel in the beauty of nature with cards and calendars featuring the Otto Fjord iceberg from award-winning photographer and environmental advocate Sebastian Copeland.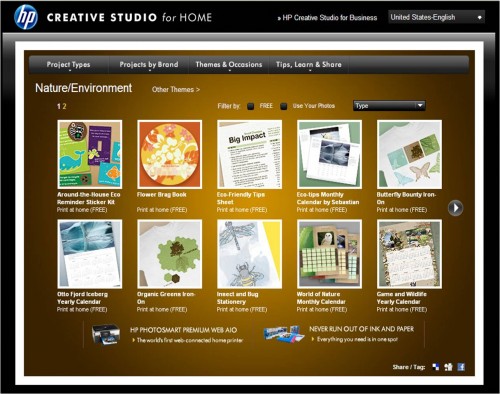 Don?t forget original HP supplies for all of your creative projects including Everyday Photo Paper made with certified fiber and recyclable with mixed papers, along with a variety of inks which can be sent back for future recycling after use with free, postage-paid return options through HP?s Planet Partners program at www.hp.com/recycle. HP has also partnered with WWF?s Global Forest and Trade Network with a commitment to progressively increase the amount of responsibly harvested fiber used in its paper products sold globally, with a target of 40 percent of its paper sales from Forest Stewardship Council-certified or post-consumer recycled sources by 2011.
For more information on HP?s environmental commitment and tips for reducing your environmental impact this Earth Day and every day, visit http://www.hp.com/ecosolutions.
No product?was received.