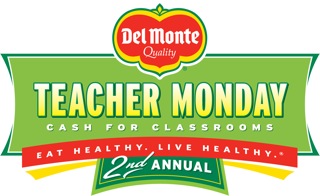 School is now back in session and most families are just getting back to their normal everday rountines.  As parents, we all know that getting kids to eat healthy foods can sometimes be a challenge.   I'm fortunate that my kids love fruits and most vegetables, but for some parents, getting kids to eat healthy may not be so easy.  But with a bit of consistency, I feel most kids will eventually start to enjoy them.  In an effort to get school children across North America to eat healthier, Del Monte Fresh Produce is holding its second annual "Teacher Monday: Cash for Classrooms. 
"Del Monte's Teacher Monday Cash for Classrooms " encourages kindergarten thru 12th grade school teachers to incorporate healthy eating and living messages into classroom activities. Sixty teachers will win a total of $1,000 in cash to purchase school supplies and fresh fruit for their students. Several winners will also get a Del Monte Fresh® Field Day event for their school in which the entire student body will enjoy a day of Del Monte fresh fruit, games and fun activities.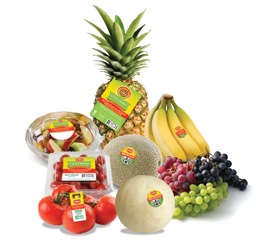 To be eligible to win, teachers must register for "Teacher Monday: Cash for Classrooms" online contest at www.fruits.com then encourage all their fans to vote for them online. Ten winners will be selected each Monday for six consecutive weeks in October and November 2011. Winners are based solely on the number of votes they receive. Winning teachers will receive $750 in cash to purchase school supplies and $250 in Del Monte® fresh fruit coupons for classroom snacks and to use in fruit educational activities.
Become a fan of "Teacher Monday: Cash for Classrooms" on the Del Monte Fresh Produce Facebook and Twitter pages today to stay informed about contest news and Del Monte Fresh fruit giveaways.
WIN !

One lucky winner will receive one backpack filled with school supplies and three lucky winners will each receive $25 in Del Monte Fresh Produce gift certificates (awarded in the form of 5 Del Monte Fresh $5.00 coupons).  Ideally, Del Monte would love for the winners to share the prizes with their children's teachers.
How to Enter:
Tell me what is your kids favorites fruit or vegetable.
EXTRA ENTRIES!
1. Like Cocktails with Mom  and Del Monte Fresh Produce on Facebook
2. Follow @MomCocktails on Twitter and tweet this giveaway. Leave your Tweet Link. (2 tweets per DAY is allowed)
Win a backpack full of school supplies and/or $25 in fresh Del Monte Produce #Giveaway @MomCocktails Ends 9/30
3.POST ON your Facebook page that you entered this giveaway, leaving a link back to this giveaway on the Facebook Page. Come back and post your FB entry link here (1 entry total)
4.SUBSCRIBE to my blog vis Email or RSS (2 entries)
5.FOLLOW this blog on Google Friend Connect (1 entry)
6.ADD the Cocktails with Mom text link or button to your blogroll or sidebar (5 entries)
7.LEAVE a comment on a non-giveaway post (Come back and let me know that you did!)(can be done up to 5 times)
8.BLOG about this giveaway and leave the link to your blog post in the comments. (5 entries)
9.SHARE this Giveaway on Facebook via the share button below ( 2 entries)
Rules:
Open to US/Canada
Include email address with first entry
Winner will be chosen by random
Giveaway ends 9/30/11 at 11:59 CST
Winner will be emailed and must respond within 48 hours or another winner will be selected.