There's something so refreshing about citrus in the middle of summer.  This creamy Lime Icebox Pie has a great balance of both sweet and tart and is the perfect dessert for a warm day. Gelatin is a great stabilizer and allows the pie to be cut without losing it's shape while the instant pudding mix adds a gentle vanilla flavor. ?Alternatively, you could substitute the vanilla pudding mix with coconut pudding mix for a more tropical feel. ?This will last in the refrigerator 3-4 days…..if it doesn't get eaten first!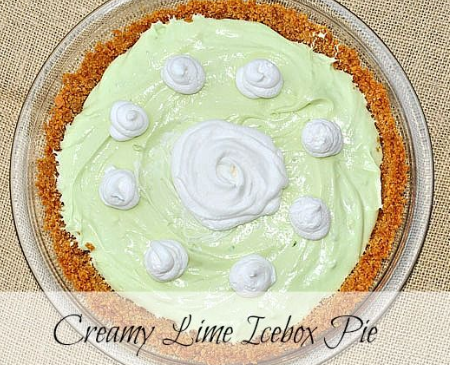 How To Make Creamy Lime Icebox Pie
Makes 1 – 9″ pie
Crust:
1 1/2 c. graham cracker crumbs (10 crackers) , crushed
1/4 c. granulated sugar
6 T. unsalted butter, melted
Creamy Filling for Lime Ice Box pie:

8 oz. cream cheese, softened
1 (14 oz) can sweetened condensed milk
1/3 c. instant vanilla pudding mix
1 1/4 t. unflavored gelatin
1/3 c. fresh lime juice
2-3 drops green food coloring, optional
1 cup frozen Whipped Topping, thawed
How to make the Crust for the Lime Pie:
Preheat the oven to 350 degrees Fahrenheit.
Combine the graham cracker crumbs, sugar, and butter in a bowl. Press into a 9″ pie pan, making sure the sides and bottom are an even thickness. Bake 10 minutes. Allow to cool completely.
Lime Icebox  Pie Filling:
In a large bowl, beat the cream cheese with an electric mixer until fluffy. Gradually beat in the condensed milk and pudding mix until smooth. Scrape down the bowl.
In a small bowl, combine the gelatin and 2 tablespoons of lime juice. Heat in the microwave for 15 seconds and stir until dissolved.
With the mixer/electric beaters running, pour the gelatin mixture, remaining lime juice and food coloring, if using, into the bowl and beat until combined. Fold in the whipped topping with a spatula or wooden spoon.
Pour the filling into the cooked and cooled crust. Cover with plastic wrap and refrigerate at least 3 hours.
Top with whipping cream if desired.