Have you ever finished dinner and had to transfer the leftovers to storage containers but can't find the right lid?  Maybe you don't want to dirty another dish for what you've got so you just use foil or plastic wrap which usually ends up loosening and now you've got stale or crusted food.  I know I hate when that happens too.  But there's another solution. Covermate Food Covers.
What makes Covermate Food Covers so unique and different from other bowl covers is they're made from heavy duty, clear FDA-compliant food-safe material free of BPA, PVC and latex.  What's even better is they stretch to fit any size or shape plate, bowl or container, yes even square or casserole dishes with handles.  They're also reusable, microwavable and, get this top rack dishwasher safe.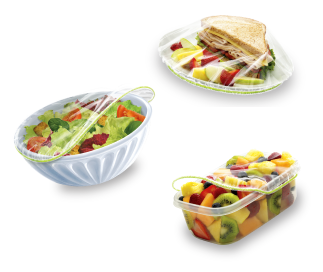 A few weeks ago we were going to a friend's for a BBQ and I made my famous Pepperoni Bread.  I put it in a plastic oblong container but the bread was piled over the top and there's no way I was going to get the lid on there.  I remembered I'd had gotten a package of Covermate's the day before to review so I pulled one out and it fit perfectly, even contoured itself over the top of the bread without any problem.  Later as we were cleaning up there were some chips in a bowl but the bag had been thrown out.  No problem, the same Covermate I'd used to cover the Pepperoni Bread fit perfectly over the bowl and they stayed safe and fresh for several days.
Covermates Food Covers come in a variety of sizes from small ( individual cans) to extra large.  I'd received the 10 pack variety pack to review and I'm very pleased with them.   They're not only easy to use but economical as well.  The package I received retails for $3.99 at retail stores like Target.
A product was received for review. I was not paid in any form of cash for this posting. The opinions expressed are my own and were NOT influenced in any way.
Photo Credit: http://www.covermatecovers.com/index.htm