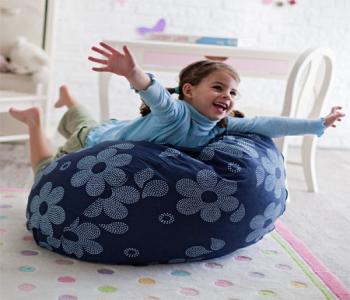 If you're looking to update to your child's room, bean bags are always a fun addition to any décor. Bean bags can single-handedly turn a boring and ordinary room to a fun and spunky space for your child. It doesn't really matter what age your kids are, bean bags are extremely versatile and come in a variety of shapes, sizes, colors and patterns making them popular with children and adults alike.
Why bean bags are such a hit with all ages is definitely a no-brainer. They are portable, practical and versatile, besides being extremely attractive.  They stretch the family budget and incorporate imaginative ideas into décor while being safe and fun for households with children. The variety available in bean bag designs and covers enables you to choose the best fit for your home.
A round bean bag is something that may never go out of trend but for those looking for something exceptional, there are unlimited options available. Bean bag cubes, chairs and ottomans can dress up a room no matter how big or small.  Bean bags are a nice space saver while incorporating economical yet imaginative ideas to décor.
Bean bags are fun not only for the indoors but are also easy to carry and useful for the outdoor loving families. Planning a camping or hiking trip? Just toss them in the back of the car and the lightweight furniture goes with you wherever you go.
Kids can never get enough of bean bags and they are great fun if you often play board games as a family. For younger children, bean bags provide ample entertainment as they can jump and lay on them or just use them to make different shapes for a fun activity. Easy to carry around, they provide cost-effective comfort. Whether it's the living room or nursery, bean bag chairs are definitely a must-have item in décor and provide style, convenience, comfort, and versatility for your homes.