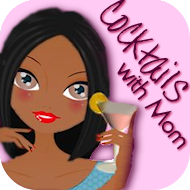 When I first started blogging, I put a lot of thought into what type of blogger I wanted to be and what I wanted to write about.  I had everything planned out and knew exactly what direction I wanted to take.  I was in no rush so I knew I would gradually work my way into where I wanted to be.  I didn't always know how I was going to get there but I just knew I would.  I've had a few online buddies to help me along the way.  They still do this day.  Sometimes I wonder what I would do without them.
But somehow along the way, I kind of got sidetracked.  I've sort of swayed into a direction I was not thinking of.  Although, it's not a bad one, it was not my original intent for my blog.   I became consumed and did not put the energy into the areas I should have.  So when I say, Cocktails With Mom is changing, the fact of the matter is I'm actually just getting back on track.   Yes-I will continue to bring you all the fabulous giveaways and reviews but a whole lot more.  You will also see a few of my bloggy friends of showing up from time to time.  They are a great bunch so I know you will enjoy them. 
In the next couple of weeks, you will gradually see the changes and I will be making a few announcements. That's of course if everything goes according to plan.
Parenting and motherhood is very important to me and I want to focus on that a bit more. I also want to share more about myself and show my personality.  I'm a pretty fun and hip Mamma and I want to show that side of me.  I also want the readers to become more involved so if there's something you would like to see us cover here on Cocktails With Mom, let me know and I will look into it.  But then again, I haven't shared all of the specifics so it may already be in the making. J
I'm really excited about this transition and I can't wait to get it going.  I'm going to leave you all with that for now and look forward to chatting with you soon as there is more to come!