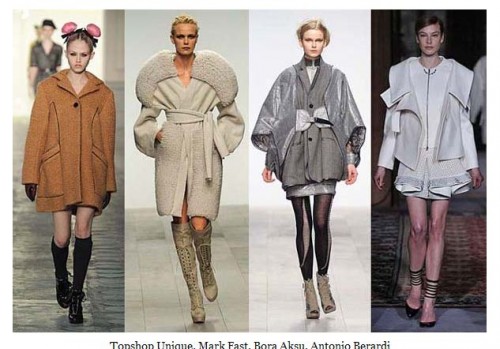 Voluminous coats are all in season on the runway. With the winter chill just around the corner, give your closet a boost with oversized coats.  A winter essential since the existence of fashion! Coats are ultra glam, they keep you cozy and make a fabulous fashion statement. This season's runway trend has given us an opportunity to accentuate our figures. For Winter 2012, designers are styling a supersize coat by creating a vintage look with long length coats in neutral tones with a subtle color palette.
While the Fall season is getting a bit chilly, getting ready for Winter's cool breeze is the best way to stay fashion forward for the season. Of course a wool or fur coat is the last thing on our minds right now. It's never too early to start browsing through a department store to stock up on a few  winter necessities. With oversized coats, you want to style it appropriately. You do not by any means want to look like a grizzly bear with a
fur coat. Keep an oversized coat as a staple for your outfit by layering your look.
Not all coats make you look slouchy and that is why trench coats were invented. They make you look zesty and fashion forward especially if flaunted in classic neutral prints or bright colors. Blanket coats that look ultra sexy are for the daring and the fashionable. You want to keep the length of your coat right below the knee. Some coats do exaggerate certain parts of your body such as your shoulders and hips, if you have broad shoulders avoid a coat with heavy lapels. Nip tied with a belt, for a sleek fitted seam around the waist; wear your winter coats with confidence to show off your figure.
Style your outfit with slim fitting pants to not have the coat be overpowering. With large coats you want to keep your body proportion in mind, pair the coat with slim fitting pants and neutral tone boots that have a snug fit.