Just because you're on a budget doesn't mean you can't enjoy a meal out on occasion. Eating out is often the first thing to get cut when people are trying to save money, but it is still possible to enjoy a fun meal without breaking the bank. Here are four easy tips to get the most bang for your restaurant buck.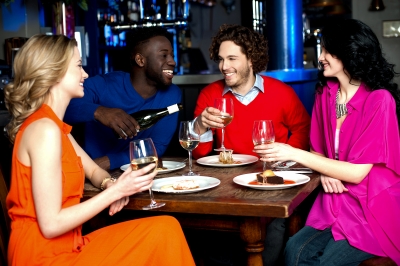 Go for lunch or happy hour
One of the easiest ways to save is to satisfy your restaurant cravings before the dinner rush. Most restaurants offer a less expensive lunch menu that features many of the same dishes and flavors in smaller portions and prices. Happy hours are popular for cheap drink specials, but many bars, pubs, and restaurants also run food specials for a few hours in the late afternoon and early evening. This can be especially helpful during road trips, when you may not be on a typical dining schedule.
Search daily deal sites
Frugal eaters know the value of paying with coupons from local newspapers and entertainment books, but daily deal sites like Groupon and Living Social can also provide diners with a chance to try a new restaurant at a huge discount. Before heading out to eat, cruise the daily deal sites for local restaurant deals—discounts are often around 40%-50% off. Just don't get caught in a lurch—some vouchers are limited to certain menu items or can only be used on certain days and times.
Become a fan
Chain restaurants are known for frequent diner programs, which reward customers for eating there regularly, such as earning a free meal after purchasing 10 meals. If you find a restaurant you love, this can be a great way to earn discounted meals over time. Many social-savvy restaurants offer special deals to customers who sign up for email rewards or who become a fan on social media. Look around the restaurant's entrance or cash register for special discounts you could receive by checking in on Facebook or liking them on Twitter.
Watch the portions
Many restaurants serve huge portions that it can be nearly impossible (or unhealthy) to finish on your own. Save money by ordering a large entrée and splitting it between two people—it's an automatic 50% discount on your meal! You can also order a meal made out of multiple appetizers, which are often much cheaper than entrees but just as delicious or filling.
Even if you're tight on cash, it's fun to get out and treat yourself to a delicious meal on the town. With a little careful planning, you can try new cuisines and still stick to your budget.
This post is in partnership with Urse Honda.