There are many things you need to check before you start a car. Make a checklist before starting a car. This will help keep you safe when driving a car.
Do some preliminary checks before starting the car. You will be able to prevent a lot of problems if you know what to check before you start your car.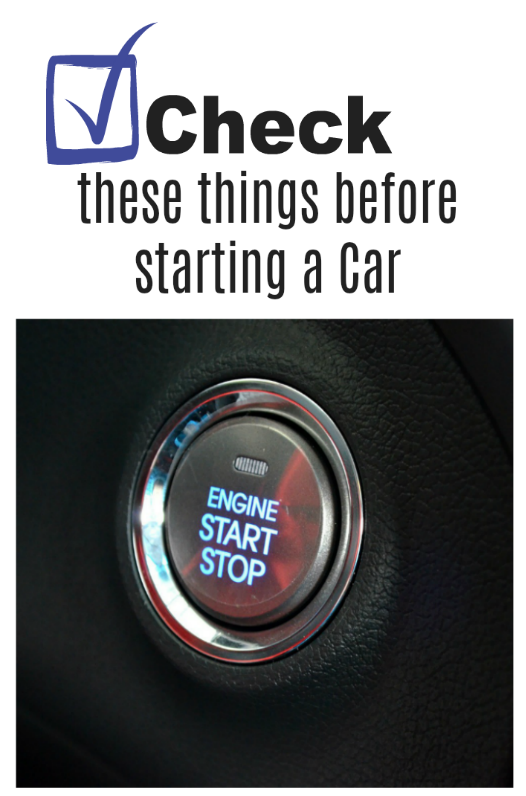 Checklist Before Starting A Car
Check the Tires
One of the first things that you need to do is to check the tires. Look for any sign of damage or excessive wear. Check it for proper inflation. If you are going on a long trip, it is advisable to check the spare tire too.
Check for Leaks
Look under the car for any sign of leaks. Driving with a leaking fluid can result in failure of brakes, steering, and radiator.
Check the Lights
Turn on the car and activate the lights to see if they are working properly. The directional signal lights should also be checked.
Check the Windows
Good visibility is important to drive safely on the road. The windows should be clean so that you are able to see clearly. The mirrors need to be aligned properly. This will enable you to get a proper view of the road.
Check the Gauges
Check the gauges on the dashboard before you start the car. Learn how the gauges need to look when everything is working properly.
Check the Fluids
It is important to check the fluids in the car. Check oil on a weekly basis. Engine cooling transmission fluids, brake and power steering fluids should be checked at least once a month. Checking the fluids is especially important if you are going on a long trip.
Depending on the type of journey you wish to undertake, you can also check the battery and the air filter. A simple checklist will help you drive safely on the road.
If you are in the market for buying a new car, check out our partners in this post, Lynch Chevrolet of Mukwonago??for all of your auto needs.