Disclosure: This is a sponsored post with the Niche Parent Network & Conference. All opinions are my own.
Since it?s still the beginning of the new year, many of us, my family and I included, are trying to put a little extra emphasis on developing healthy habits. It?s a smart thing to do; something that will provide rewards that can be not only reaped right away, but also will continue to bring benefit for years to come. This includes anything from making sure to get outdoors and exercise every day, to eating as healthfully as possible, to trying to minimize stress in our every day lives. An even better endeavor is to commit to helping promote health in your neighborhood and community. That?s something we plan to focus on more as well, as our growing community can always use more sincere, helping hands in that area.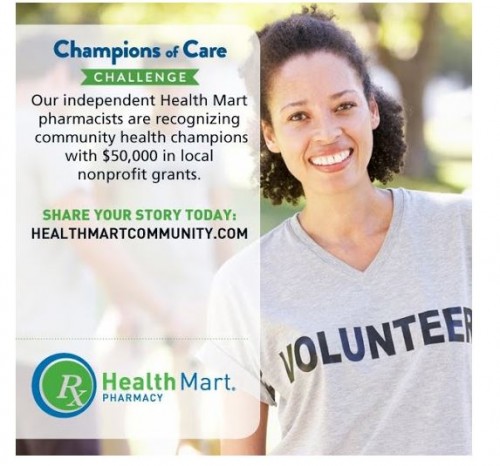 Does that remind you of someone you already know in your community, someone who works tirelessly to promote health and well being? It could be the firefighter who gladly stays on call at all hours and is the first to rush to a scene of disaster, or it could be the doctor who take some extra time to talk to their patients about their health, or those volunteers who help out at local shelters, food banks, and soup kitchens. It?s time to speak up and give those people the credit they deserve!
Although they may work mostly unrecognized behind the scenes, there are quite a few people at work in their communities doing what they can to promote good health. These people work sincerely, from the heart, and do it out of love for those around them. It?s time to say thank you to these local heroes. Independent Health Mart pharmacists are awarding $50,000 in grants to community non-profits as a way to recognize them for helping to improve the health of their communities. It?s very simple to enter: Just tell your story about your or someone else?s good deed at helping to make the community healthier, and you could win the right to select the non-profit of your choice. Health Mart?s Champions of Care Challenge? is bringing to light the local heroes who work selflessly to build healthier communities.
Starting on March 17, the public will have two weeks to vote for their favorite Champions of Care at www.healthmartcommunity.com. Head on over to right away and nominate your hero for the Champions of Care Challenge from Health Mart.
Do your part and nominate a local hero!? If you would like to learn more about it you can follow Health Mart on Facebook!
?