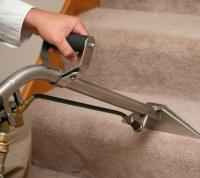 Adding carpet to any room gives it a homey and comfortable ambiance. I just love to run my toes thru nice plush carpet and playing  around with my kids being silly.  It's definitely a nice addition to any home especially on those cold chili days.   But what about those nasty spills and stains that can turn your a beautifully cleaned carpet into an unsightly mess?
My carpets are no stranger to stains; in fact they take quite a beating.  Between tracked in mud and accidental spills, spots just manage to appear throughout the house.  When you combine two very experimental little boys and a dog who loves to dig and then run rampantly throughout the house, carpet cleaning becomes an almost daily chore in itself.
From my experience, I've learned that not all stains are created equal. You have your chocolate milk stains, ketchup stains, muds stains, and oh my favorite the kool aid stains which no one seems to know how it got there.   But what I've learned is that if you have a stain, you should try to remove it as soon as possible since the longer you ignore it, the harder it is to remove. Since carpet cleaners can be quite pricey and I don't have one just lying around, that option is not always possible.
I tried using regular soap and water to several homemade remedies.  Some work better than others but nothing like what a professional cleaning company would provide.  I have a review coming up on a product that I hope does the job.  I can't wait to share my experience with this one.  Not only can it be used on carpets, it can be used in the wash, the bathroom for just about any type of stain.
I'll keep you posted on the outcome.  In the meantime, what type of carpet stains are you dealing with?
photocredit: frederickmdpublicity