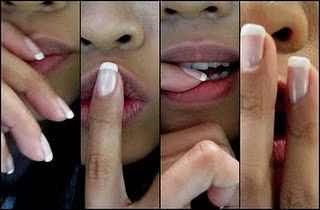 Our hands tell us a lot about ourselves. In fact, mine are telling me that I need a manicure BADLY. Don't laugh; yours are probably in need of one too. If you're like me, you probaly don't have the time or extra money to visit a manicurist regularly; learning to care for them yourselves can be a great way to save money while giving yourself a little pampering session.
I used to be a nail biter so my hands have not always looked their best. Once I broke that habit, the appearance of my nails became very important to me. I've had to learn how to maintain them, keep them healthy nails and am no longer embarrassed of their appearance. The quest for beautiful healthy nails doesn't have to break the bank, in fact, it is easy and affordable if you know how to.
Here are some tips for better looking nails.
Remember I mentioned that I was once a nail biter. Well, that one is first on the list as a big no, no.
Don't bite, chew, or peel your nails. Chewing on your nails and cuticles can cause bleeding and infection and sometimes permanently damages nail growth. Some habits are difficult to break, but you can do it!
Use nail clippers and a file regularly. Short nails are fashionable?and healthy right now! Trimming nails regularly promotes healthy growth. If a nail gets snagged, trim it and file it right away. Also, trim hangnails with clippers instead of biting them off.
Moisturize. Nails and cuticles need?moisturizer just like your skin does. Rub lotion into your nails and cuticles when you are?moisturizing your hands at night.
Maintain a healthy diet. Yes, eating healthy is good for your entire body including your nails! Eat a diet that is rich in zinc and calcium. Eat foods with protein! Stay away from lots of sugar and alcohol. Your nails will reflect what you are eating.
Wear rubber gloves. Gloves can serve as a protectant. When you are engaging in activities where your nails could get dirty, damaged, or extremely dried out, wear gloves to protect them. This includes activities like dishwashing and gardening.
All in all, I think nails are an extension of our skin and they reflect our personal habits and health. You can achieve beautiful healthy nails yourself and it doesn't have to cost a fortune to do so.