…or should I say Night.   OK. So I have been slowly but surely putting things together and finally making over my bedroom which quite frankly has taken longer than I expected.  I knew exactly what I wanted in my head but never did manage to find the perfect comforter set that would give me the look and feel I wanted…until now.
Since the bed is the focal point in a room, it can make a space feel brighter, more sophisticated or even turn it  into a relaxing retreat so I wanted something fitting.   I didn't realized that getting a designer bedroom look doesn't have to be difficult.  You can have a fresh updated look in no time.   The  Donna Karan Home Collection has many great ideas and designs.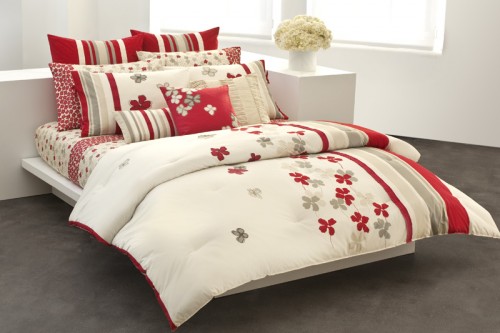 Fortunaltely for me, I had the opportunity to review the DKNY City Clover Bedding Collection and instantly fell in love.  This  was not my first choice but I think it ended up being the best choice for me.  
 The DKNY City Clover Collection is equal parts bold and serene, fun and sophisticated.  The collection features a playful mix of intensified stripes on vibrant euro shams, mini floral print 350 thread count cotton sateen sheets and cases, textured and graphic accent pillows, and the clover motif and joyful blooms sprinkled over an assortment of decorative pillows.
I'll have to admit, I wasn't too sure about this color scheme at first and was a little hesitant because I tend to be more favorable towards more subtle color palettes.  So I stepped out of my comfort zone and I'm glad I did.  It is beautiful! I cannot express how pleased I am.  Adding the comforter alone has given my room a different feel.   With the right accessories and finishing touches, it will definitley be the little oasis I was looking for.  I still have a few more things to do before I'm completely done with my room makeover but I was excited to show you my new bedding.  I wanted to give you a sneak peek before the complete reveal.  Disregard the hideous color on the wall.  I don't know what we were thinking lol.
Take a look at my bed before.  Not much excitement going on here, right?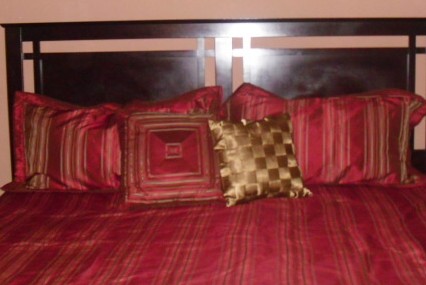 Now take a look at my "new" bedding.  I could not get the right lighting on my camera so the pics are a little off but still beautiful!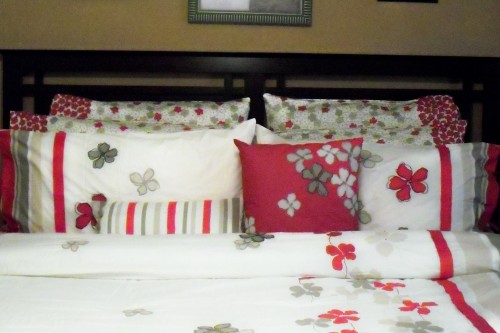 The comforter set included matching shams with the blossom details and stripes.  I love the unique tie closures located on the shams.  The Bedding Set itself, comes with : 1 comforter set (comforter and 2 standard shams), 1 Euro sham, 1 sheet set and 3 City Clover decorative pillows.  It includes everything you need for a giving your bed the makeover it deserves.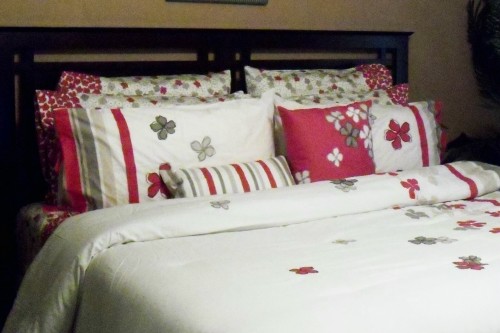 And talk about comfort!  I don't know if it's because of the new bedding but I have been sleeping a lot better these days.  My husband just said the other day that he now looks forward to bedtime.  He says… Now this is what a bedroom should look like!  which had me wondering…What did it look like before, lol.    Anyways, but this is a compliment coming from someone who rarely commits on anything so that just reassured me that again I made a great choice.
I absolutely adore my new bedding and can't wait to finish the project.    So share with me, what are some of your recent makeovers?
Disclusure:  In order to facilitate this review, I was provided with the beautiful DKNY City Clover Set shown above.  My opinions and expressions were not influenced in away.  No other form of compensation was received.