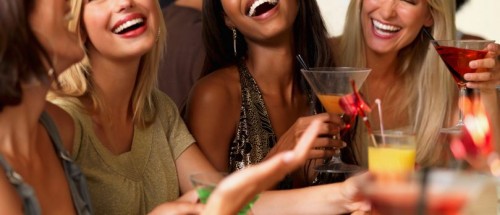 Girls nights in are as vital as air and food to most women. Time with our girlfriends is precious, and a night in where we can talk, laugh, play games and have lots of fun is sometimes better than a night out.
Women bond over talking through problems, cooking food, drinking cocktails and supporting each other. I really look forward to our monthly catch ups with my circle of friends. Next week it?s my turn to host and more than likely will consist of five girls all mixing some new drinks to enjoy, and once we have cocktails in our hands we usually play some games. Anything from card games to board games and everything in between.?
Food wise, we try new things to, just like we do with the games. So I am suggesting a French theme and kicking it off by making chocolate fondue and getting some fresh baguettes to share. Some of the girls are bringing other French foods, while one girl is bringing champagne!
My girlfriends and I have been through a fair bit ? we support each other, occasionally fall our or disagree, and always strive for fun new things to try or places to go. As most of us work full time and a few of us have kids, a girls night is just so much fun. A chance to let our hair down and talk to someone who understands our career issues, boyfriend or husband gripes as well as feel like we have supported each other.
The morning after is usually a little slow, as we do enjoy a cocktail or two, but just spending time together is always worth it and that usually make me feel better come sunrise!