With school starting in a few weeks, I was rounding up lunch ideas for my kids. With two children, I know the daily grind; how many PB&J sandwiches can the kids eat?
To help you with lunch ideas for your kids, I decided to round up 6 things my kids absolutely love and never get bored of. They are really easy to prep and are yummy and healthy, so are absolutely perfect for days you are tempted to send them off with something less than desirable.   Here are 5 absolutely fool proof ideas that your kids will love.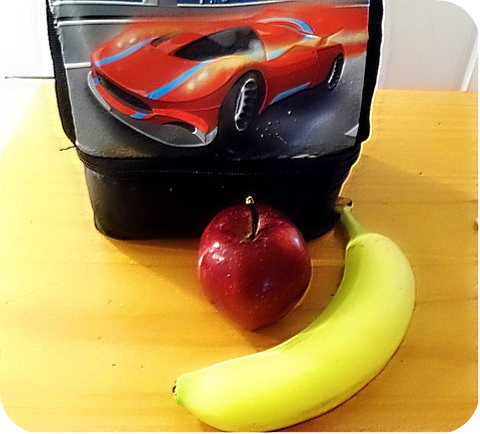 Lunch on a stick: This is my kids' absolute favorite and they can't get enough of it. Maybe the trick with these is that they are fun to eat. Make up kebabs using a skewer (or straw) with many different foods. Put slices of ham or turkey, cucumber pieces, pineapple cubes, and their favorite cheese onto the skewers and you know they'll eat it all up. With these the best thing is that I can be creative and pack them every day with different foods. They love the surprise!
Easy Ham & Cheese Wrap:  I make these for my kids all the time. They are really simple but always a crowd-pleaser. Spread mayonnaise down the middle of a flour tortilla, followed by a few slices of cooked ham, tomatoes and lettuce. Roll it up, wrap it in foil or plastic wrap and you're done.
Chicken Caesar Salad: Keep croutons on hand in an airtight jar and pack them separately for lunch so they don't get soggy. Just some lettuce, a chicken breast and a splash of dressing; your kids are good to go.
Turkey or Chicken Sub:  I never knew just how versatile a hot dog bun could be.  Filled with the right toppings, they make great mini submarine sandwiches.  Simply pile on your kids favorite deli meat, along with plenty of veggies and you have a pretty nice sub. Add a slice of cheese and then slip packages of condiments into their lunch bag to add to their "sub" right before eating. Yum.
Whole-Wheat PB&J – I was totally kidding about the PB& J because my kids actually love it. But to mix things up a bit and give it a healthy spin, I like to prepare it on a whole wheat bagel.  Add in some whole grain chips and a small banana you'll have yummy in a jiffy!
Muffins and Cupcakes: If your child has a sweet tooth like my youngest, make up his favorite cupcakes the day before and just pop them in the lunch box.  I love preparing homemade desserts because I get to control exactly what ingredients go into the recipe making it a little healthier.  And a sweet surprise always puts a smile on their face.