Middlesboro is built entirely within a meteorite impact crater that is 3.6 miles across. It was founded by a English land company in the 1880's and named for Middlesborough, England. It is home to the oldest, continuously played golf course in the eastern U.S., at the Middlesboro Country Club. It doesn't matter if you are planning a day trip or a longer visit, Middlesboro is an entertaining spot to visit.
This post is sponsored by our brand partner in Middlesboro, KY. If you're in the area, consider Tim Short Dodge Chrysler Jeep Ram for your automotive needs.
5 Things to Do in Middlesboro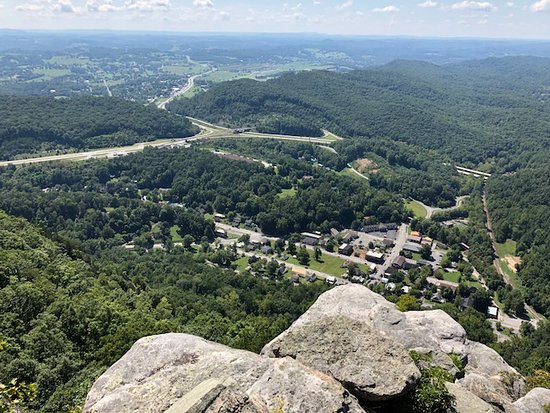 Cumberland Gap National Historical Park
Cumberland Gap National Historical Park lies along the borders of Kentucky, Tennessee and Virginia. Pinnacle Overlook has views of Cumberland Gap, a pass in the Cumberland Mountains once used by pioneers headed west. Visitors can tour the many caves in the park which house both stalagmites and bats. Or stake a hike on one of the park trails such as the Ridge Trail, running the park's full length.
Bell County Historical Museum
Located in an Andrew Carnegie Library that was built in 1912 many of the exhibit cases are repurposed bookshelves. From the story about Middlesboro being the only town in North America located in a meteor crater, to a Big Foot costume that fooled many, this museum has a lot to offer. The director often offers to walk visitors through and gave an overview of the museum. There is extensive genealogy data and photographs that can be accessed. Some of the numerous displays are devoted to early tools, coal mining, trains, an Elizabethan parlor and tavern. There is even an actual sidesaddle on display and much more.
Middlesboro Mall
The Middlesboro Mall is an enclosed shopping mall in Middlesboro, Kentucky, on U.S. Route 25E. It includes over 26 stores and services. You are sure to find something to please everyone here.
Oldest House in Middlesboro
Built about 1800 in Yellow Creek Valley, the second brick house in the county, and the oldest one still standing. The bricks were made from clay by slave labor. Home of Rev. John Calvin Colson, "known as the Patriarch of Yellow Creek Valley".
Shillalah Creek Wildlife Management Area
While not created for driving, this wildlife management area boasts a playground, fishing pond and an undeveloped road with tough terrain to make hiking here an adventure.