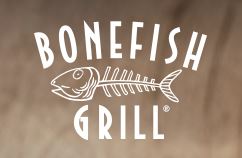 While I'm on the topic of food (check out my other Gift Card Giveaways for a Restaurant.com Gift Card as well as a Sunoco Gift Card to get you there) I thought I'd talk about Bonefish Grill.?? My first impression when hearing the name was, of course seafood but they've got so much more.? Steaks, chops for the carnivore like me with some chicken dishes thrown in for those with the more mild palates and then of course "fish".?? Of course your Bonefish Grill gift card is more versatile than that and I'll prove it by using their own words directly from their website.



?Our card can be redeemed at any of our Bloomin? Brands, Inc restaurants: Outback Steakhouse, Carrabba?s Italian Grill, Roy's, Bonefish Grill and Fleming's Prime Steakhouse & Wine Bar in the United States. Also valid at Outback Guam and Puerto Rico.
If you'd like to be entered to win a Bonefish Grill gift card then follow the easy directions below.