If you're looking for luxury but you don't want to break the bank, consider the Genesis G80,? a new luxury brand from Hyundai previously known as the Hyundai Genesis . It offers all the trimmings of a luxury car ? standard leather upholstery, a large touch-screen display, above-average performance ? for an affordable price!
The 2017 Genesis G80 is a medium luxury car is suitable for a person who loves both comfort and style!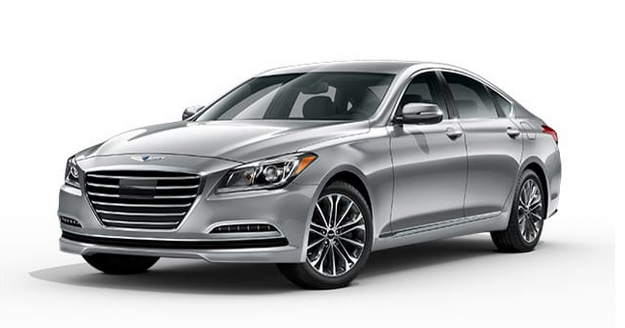 I just recently learned of this model and it immediately caught my eye. The sleek and stylish exterior of the 2017 Genesis G80 makes a grand statement and on the outside and offers a roomy, high-quality inside cabin. It comes packed with the latest technology, and a powerful engine.
Perfect Choice for a Luxury Family Car
There are several reasons a luxury car can make a great family car. A quiet interior allows passengers the opportunity to conversation without yelling; you get family friendly seating that make long family roadtrips comfortable; and the technology and safety features that are only available on higher end models. While some have back seats that are a bit tight for adults, most?should be fine for children, and many are available with fabrics and trims that are easier to clean than the cloth found in normal sedans.
The lush interior of the G80 can accommodate up to five people which means that it can be used as a family car. The leather interior makes it idea for quick wipe downs in the event of a spill. For entertainment there is a large touch-screen display that can also display information about weather and traffic. In comparison to the other mid-size luxury vehicles, Genesis G80 also scores highly when it comes to fuel economy. The latest features provide the Genesis G80 with more agility and gives the engine a sport-like feel when driving.
The front seats are designed to be sporty and along with the rear seats, they are heated. To ensure that children are safe, the G80 comes with two lower anchors and an additional three anchors in the rear seats. This ensures that even when traveling with children they are safely strapped. Love this feature!
There are additional features for entertainment that include a speaker sound system that has high sound quality. To ensure that there are no surprises while driving, there is a 7-inch driver-information display that feeds the driver with all the relevant information about the vehicle. All these features make the Genesis G80 the best option for a person willing to purchase a medium luxury vehicle that provides comfort and is stylish at the same time. The Genesis G80 is the best option. It is cheaper as well in comparison with other mid-size luxury vehicle models.
Safety Features
The 2017 Genesis G80 is loaded with a suite of standard safety features, like antilock brakes, traction and stability control, active front head restraints and Genesis Connected Services. Genesis Connected Services offers safety and security features through their telematics system, with features like SOS Emergency Assistance, Stolen Vehicle Recovery Services, On-Demand Roadside Assistance and Remote Lock/Start functions. Other standards for safety that come in the 2017 Genesis G80 include blind-spot monitoring, rear cross-traffic alerts, lane departure warning/intervention, front-collision warning and an automatic emergency braking system. Front and rear parking sensors are optional for the 2017 Genesis G80, while power-adjustable steering is not standard. The 2017 Genesis G80 offers luxury style and speed, bundled with all the latest in high-tech toys, all at an affordable price.
Available colors for the 2017 Genesis G80?
There are eight exterior colors available for the 2017 Genesis G80! Manhattan Brown, Caspian Black, Ibiza Blue, Patagonia Blue, Parisian Gray, Himalayan Gray, Casablanca White and Santiago Silver.?
Where to purchase?
You can visit Central Avenue Genesis in Hartsdale, NY location, nestled between Yonkers and the Westchester County Airport!
Save
Save