Great news for Houston shoe lovers:
The team at Nine West and InStyle magazine has invited our readers to an exclusive event at the Nine West Galleria Store! On Thursday, March 20 from 6-8 p.m, stop by for an evening of fun and fashion.
The women's shoe and accessories brand has expanded its successful partnership with the magazine that debuted last fall and to celebrate the spring collection of shoes, jewelry and bags they are having a PARTY!? InStyle's accessories editor Leah Karp and Erika from Nine West will be in town to celebrate the launch of the 9W?InStyle's Spring & Fall Accessories collection? and would love for you to join them!
Here are all the details?hope to see you there!? Nine West Galleria store 5135 West Alabama Street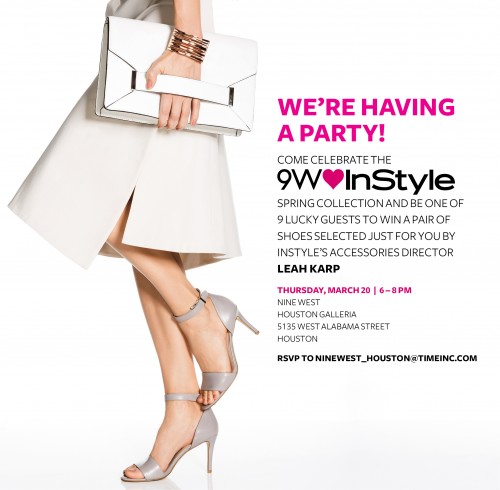 9 Lucky guests will have the chance to win a pair of shoes selected just for them by InStyle's accessories editor Leah Karp during the event! This event is open to the public so be sure to RSVP to NINEWEST_HOUSTON@TIMEINC.COM!

9W Hearts InStyle now consists of 18 styles of shoes, a portfolio clutch, and a very fashionable cuff with everything priced from $79 to $109. It?s the first editor-designed partnership combining the industry insight of InStyle?s fashion editors with Nine West?s footwear and accessories expertise, a first of its kind. The collection is on sale right now, and I personally have my eye on these?sexy slingbacks, perfect for spring!
Disclaimer: This is a sponsored post