Witches' Market
You may catch a feel of Harry Potter's world of witches and sorcerers once you get into the witches market. This is the market to go if you want to freak yourself or just be entertained or curious with the stuffs used by witches, quack doctors, fortune tellers, astrologers. Some samples of the items, they say, are used for fertility, prosperity, or black magic. The weirdest stuff you may see are amulets, fertility or prosperity statues, talismans, dried animals, prayer books, etc.
 Strippers Market
The strippers market sells items that strippers would love to wear. It sells sexy lingerie with designs that vamp sensuality. Also coins bikini, club wear, and stilettos for a total sexy made up getup.
 Floating Market
There is a city in the South of Indonesia that is known as a city of thousand rivers. Here, tourists will be delighted to shop for goodies with small boats carrying them around to meet buyers that are likewise riding jukung (small public boat) or stopping for houses/bridges built around the river. If you'd like to shop with a bit of fun floating adventure at the same time, Muara Kuin Floating Market is the place to catch.
Freitag's Container Shop
Want to shop from top on high? Freitag's Container shop is considered as the world's tallest shipping container building. Freitag's known for their stylish and innovative messenger bags but taking it notch higher to amaze their shoppers while they see the city view from top of this recycled giant containers. Truly innovative.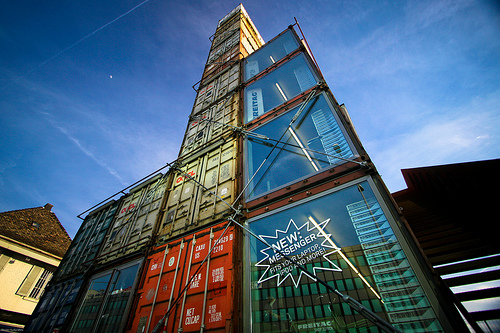 Gypsy Brides Market
Single people who want to be married shop for a spouse? Yes, this is a tradition happens every Easter feast day of St. Todor or Horse Easter in Bulgaria. Women wear their finest clothes, and jewelries and put on a lot of makeup to attract the men in an open-air bride market. The value of a beautiful young woman is priced at 7 thousand levs/euros and every woman is hopeful that their prince would come out and buy them.
Fore more weird shops and markets selling the strangest wares , be sure to stop by and check out Oddee.