When planning for a wedding brides want everything to be perfect.  Everything all the way down to wedding favors!   Wedding favors should be memorable items, tokens of appreciation for the people who come to share this special day with you for years after you have your marriage.   I know when I was getting married, wedding favors were a big topic of conversation.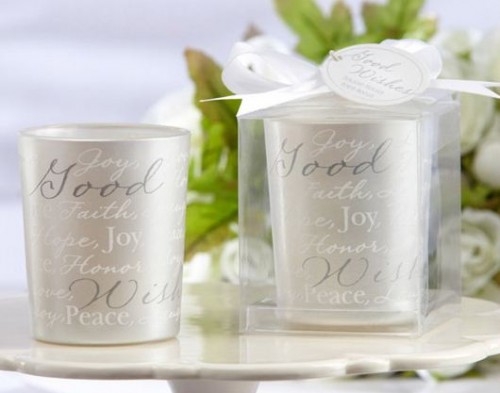 There are many types of wedding favors you can choose from and the majority of favors can be bought from online stores.  Some of the more popular ones include votive or tea light size candles, disposable cameras, miniature liquors, and edible treats such as cookies, sachets of tea or coffee and personalized chocolate bars.
Camera Favors –
Disposable camera favors are fun!  These can be personalized with the name of the happy couple and their wedding date. They are also available in a variety of colors and patterns which can match the color scheme of your wedding.
Candy Favors –
How can you go wrong with candy? One of the more popular trends in wedding and shower favor ideas is candy. Personalized candy wrappers with your names and wedding date offer a sweet alternative to traditional wedding favors.
Candle Favors –
Candle favors are the perfect way to thank your guests for attending your bridal shower, or being a part of your big day.  Who wouldn't love receive one of these luminous keepsakes?!
With many things considered, wedding favors may or may not be high on the list.  But regardless of where you stand, you want  gifts that will stand out in your guests' minds for years to come and won't break the bank.  There are several different options for unique wedding favors from American Bridal that will add a special touch to your day.  Whether a  large traditional wedding or small intimate gathering, your wedding favor should suit your taste, style and budget!