If you've ever had fruit flies in your house, you'll know why I was so excited to try this product. I think it all started with a bunch of bananas from Safeway. Some eggs must have been on them because a short while later, our kitchen was full of fruit flies.
Fruit flies are horrible little critters! They don't fly in a straight line and they are really fast, making them almost impossible to catch. If that doesn't drive you nuts, the sheer number of them will. I had to come up with all kinds of homemade traps just to lower the number until they died off. Since then, which was about 9 months ago, I haven't bought any fresh bananas for our home.
Terro has answered the call to rid our homes of these pests. The Terro Fruit Fly Trap is designed specifically to attract fruit flies and is advertised as being non-toxic. The set up is really simple. Just pull off the leaf-shaped tab on top and then empty the contents of the included bottle into the trap. That's it! All you need to do is place it near your fruit or where most of the flies gather. When setting up the trap and placing it, keep in mind the strong scent of vinegar and that the liquid is bright red.
Fortunately, for the sole purpose of this review, some other fresh fruit I bought came complete with some fruit fly 'guinea pigs'. Within a day or two the flies started to land on the edges or just slightly inside the trap. After about a week, I counted about a dozen bodies floating in the liquid (okay, I know that sounds gross). So does it work? With an ecstatic response – Yes!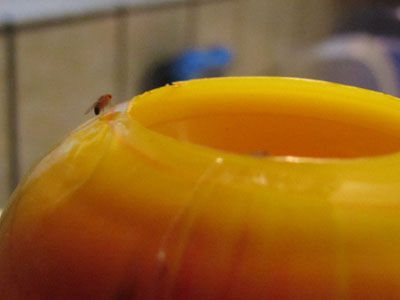 Win It!
Three readers will win a Terro Fruit Fly Trap.
Mandatory Entry!
Visit Terro and tell me what other item you need!
Extra Entries!
Enter to win a Terro Fruit Fly Trap and enjoy your fresh fruit again http://tinyurl.com/24gpy7j
STOP!
You MUST leave your email address in one of the comments or have it in your profile so I can get in touch with you.
Contest ends, August 17 2010 at 11:59pm CST. Winner will be chosen via Random.org. Winner has 48 hours to respond to my notification email, or a new winner will be chosen.Open to the US only!
Disclosure: I received a Terro Fruit Fly Trap for the purpose of this review. The thoughts and views expressed in this review are strictly my own honest opinions. I was not compensated in any other way.