Pineapple is a highly versatile fruit that can be enjoyed in many ways.  You can have them as dessert, as a pick-me-up,  or include them in your favorite salad.   They are also a low-calorie, fat-free way to add tropical flair to some of your main courses.  Best of all, you can enjoy them year round.
I am already  thinking  of ways to use them in a few of my favorite fall dishes.  Right now  you can download a .50 cent off coupon for a Del Monte's Gold® Extra Sweet Pineapple yourself and get a boost of Vitamin C and some overall deliciousness to some of your dishes.

Go to Del Monte Fresh Produce  on Facebook to download the coupon. Just click on the "Save" tab, complete a short form, and you will be directed to the downloadable coupon. Limit one per person. While supplies last.
Looking for ideas on how you can use pineapples in your dishes? 
Try these Pineapple Upside-Down Muffins for a tasty treat. Packed with wholesome ingredients–vegetables, fruit and whole grains–you can feel good about serving them to your family!  For more pineapple recipes and facts, go to www.fruits.com.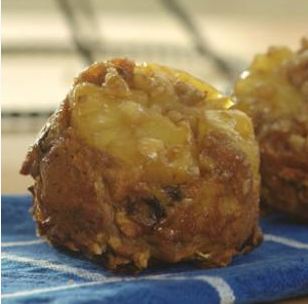 Pineapple Upside-Down Muffins Recipe
Ingredients
Topping
2 tablespoons packed light brown sugar
2 tablespoons chopped walnuts or pecans (optional)
1 10-ounce can pineapple slices
Muffins
¾ cup whole-wheat flour
¾ cup all-purpose flour
2 teaspoons baking powder
½ teaspoon baking soda
¼ teaspoon salt
1 tablespoon ground cinnamon
2 large eggs
½ cup packed light brown sugar
¼ cup canola oil
2 tablespoons pineapple juice or orange juice
1 teaspoon vanilla extract
1 8-ounce can crushed pineapple (not drained)
1 cup grated carrot (1 large)
½ cup old-fashioned oats
¾ cup raisins, preferably baking raisins (see Ingredient note)
¼ cup chopped walnuts or pecans (optional)
Instructions
Glistening like sticky buns, these unusual muffins are packed with wholesome ingredients–vegetables, fruit and whole grains–so you can feel good about serving them to your family. If you prefer to make simple carrot muffins for lunchboxes or breakfasts-on-the-go, omit the topping; sprinkle 2 tablespoons chopped nuts over the muffins before baking, if desired.
Preheat oven to 400°F. Coat 12 muffin cups with cooking spray.
To prepare topping: Sprinkle ½ teaspoon brown sugar into each muffin cup. Sprinkle nuts, if using, over the sugar. Stack pineapple slices and cut into 6 wedges. Place 2 wedges in each muffin cup.
To prepare muffins: Whisk whole-wheat flour, all-purpose flour, baking powder, baking soda, salt and cinnamon in a large bowl.
Whisk eggs and brown sugar in a medium bowl until smooth. Whisk in oil, juice and vanilla. Stir in crushed pineapple. Make a well in the dry ingredients; add the wet ingredients and stir with a rubber spatula until just combined. Stir in carrot, oats, raisins and nuts, if using. Scoop the batter into the prepared muffin cups (they'll be quite full).
Bake the muffins until the tops are golden brown and firm to the touch, 15 to 25 minutes. Immediately loosen edges and turn muffins out onto a baking sheet. Restore any stray pineapple pieces and nuts. Let cool for at least 10 minutes. Serve upside-down, either warm or at room temperature.
Notes
Recipe Tips & Notes: Baking raisins, moister than regular ones, ensure a better texture. To substitute regular raisins, plump them first: soak in boiling water for 10 minutes; drain well.