Not too long ago we welcomed our second son into the world. Well, here it is almost January and he will be 1 year old. We were looking for the most perfect outfit for him for his birthday. I heard about MyBabyClothes.com and had to check it out.
These clothes aren't just plain old clothes for kids. No, these clothes are fashionable clothes for kids that make them look just plain snazzy. I was so excited to be able to try out this outfit for my son for his birthday. Of course, we had to get a sneak peak before then. It's not every day my son gets to be the hottest-dressed-baby on the block.
Here is a quick picture of their cute baby model wearing the outfit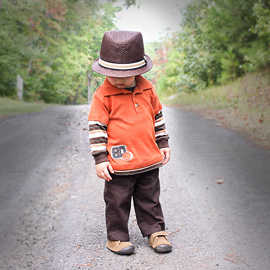 Make any fall day a bit more fun with this autumn inspired ensemble that is just perfect for cooler weather. A deep orange short sleeved shirt layers long sleeves of ivory, mocha, and chocolate horizontal stripes to create an open-colored shirt that offers both comfort and fashionable good looks, and a band of ivory at the hem is a cool and stylish accent. Pair this fun and functional top with chocolate hued pants and he'll be the most dashing kid among those on the block vying for the big pile of leaves in the back yard.
I am really pleased with the quality of this outfit. We will be getting a lot more wear out of it, then just for his birthday. My son is still crawling so it's important that the pants can withstand a good meeting with the rug every now and again. I personally am in love with the bright and bold colors. It's hard to find clothing that outlasts your kids. I'm pretty sure the Good Lad Orange Stripe Shirt and Pant Set is just what we've been looking for to match our son's feisty and outgoing attitude.
Lastly, I was most pleased with the service I received from MyBabyClothes.com. They genuinely cared about my order and getting it to me fast. Matter-of-fact I was shocked I got the outfit so quickly. I will be doing business again with them soon, very soon!
I have a niece that I cannot wait to buy for because the clothes from this boutique are just plain fabulous. Also, for once it was nice to find classy baby clothes for a boy from a boutique. Too often the clothes are only for girls. Overall, this is one happy momma! I'd say if you are looking for a great Christmas outfit for that little lad or laddette of yours….then hop on over to MyBabyClothes.com!
Win It!
On Cocktails with Mom reader will win a $25 gift code to MyBabyClothes.com!  To enter, Just enter via the Rafflecopter Form Below.