I used to be that person?who would jump in my car, head out to the malls, visit family and friends or just venture off to new places with no problem or fear of getting lost. That is? until I moved to another city.
Texas has been home to me now for several years and I have yet to fully explore what the city has to offer.?? The highways here somehow intimidate me.? Add the fact that that I may be a bit directionally challenged and you get someone who doesn?t get out much… or should I say who didn?t.
I was offered the opportunity recently to test out the Magellan RoadMate 9055 GPS and I was thrilled!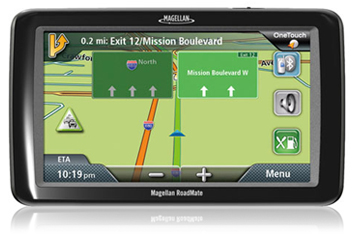 ?The Magellan RoadMate 9055
The Magellan RoadMate 9055 is a premium GPS navigator with a huge 7? touch screen and packed with features including Bluetooth calling, OneTouch? favorites menu, free lifetime traffic alerts, highway lane assist and built-in AAA TourBook?, plus much more.

?Enjoy hands-free calling and superior sound quality with advanced Bluetooth technology.

?Highway lane assist guides you towards the correct lane when approaching interchanges and exits.

?Free Lifetime Traffic alerts provide real-time traffic information with no subscription fees.

?Huge 7? touch screen with premium maps of the United States, Canada and Puerto Rico.
What I love about The Magellan RoadMate 9055
I quickly found out just how incredible the Magellan RoadMate 9055 is.? Not only does it allows me to talk hands-free, but it also helps me to avoid traffic, bookmark my favorite destinations, and helps make sure I am in the correct lane for exiting off the highway.
I?m no longer nervous about traveling to new places
The directions have been PERFECT so far.? I have ventured out to several places around the city that I?ve never been before and now have the confidence that I will get there and BACK with no problems.? It also?re-routes automatically if a wrong turn is taken.
It gives me traffic updates!
The real-time traffic is definitely a plus!? Whether starting a new route or inroute the unit either shows a green icon indicating that roads were clear, or a red icon that signaling nearby traffic.? When I?m given a traffic alert, I can push the traffic alert icon to get a new route if one is available.
One Touch menu
The One Touch menu is a great feature?that can give you quick and easy access to? frequent destinations.? You can assign a specific destination or POI (points of interest) category or subcategory.
Big Screen and Bright Display
I drive a Yukon so having the larger sized 7? screen works perfect .? It makes it ?easier to see, use and program the device.??I also found the unit fairly easy to install (well my husband did) but it is really an easy install and I could have done it myself.??The RoadMate 9055-LM also comes with a specialized heavy-duty Extension Mount that secures it to the windshield and?allows you to position it exactly where you want it and not block your vision.? It is also easy to remove the if you don?t want to leave it in your vehicle.
Finding places is EASY!
I am no longer afraid to venture out.? If I am in an unfamiliar area, I can find the closest ATM,?gas station, restaurant and more with the click of a button.
The Bottom Line
Now that I?ve had the chance to test and try out the Magellan RoadMate, it is truly one of my favorite gadgets and I use it daily?sometimes to get to places I have no problem getting to; like home.? Since I don?t always drive my standard route any longer, I have found all sorts of clever and interesting ways to get to my daily destinations, all with an estimated arrival time.
The Magellan 9055 is also a must have for summer road trips.?We got the chance to use it quite a bit over the summer and it came in very handy.? It gives you peace of mind and confidence while traveling.
One thing I would have liked to see work better is the bluetooth sound quality.? Calls were a bit fuzzy so I haven?t used that one feature a lot. The life of the battery could also be improved.? If you have a large vehicle and like the idea of a 7? screen, the RoadMate 9055 is a great choice.
You can purchase the Magellan RoadMate 9055 GPS
at Amazon.com and other major retailers.? The current price on Amazon is $248.95
Magellan RoadMate 9055 Giveaway
One lucky readers will win a Magellan RoadMate 9055!
How to Enter: ( Mandatory)
SUBSCRIBE to my blog via Email or RSS

EXTRA ENTRIES!
1. Like Cocktails with Mom and?Magellan on Facebook
2. Follow @MomCocktails ? and?Magellan? on Twitter and tweet this giveaway or create your own. Leave your Tweet Link. (2 tweets per DAY is allowed)
I just entered to win a Magellan RoadMate 9005?and so can you?#Giveaway @MomCocktails Ends 10/27 US/Canada
3.POST ON your Facebook page that you entered this giveaway, leaving a link back to this giveaway on the Facebook Page. Come back and post your FB entry link here (1 entry total)
4.FOLLOW this blog on Google Friend Connect (1 entry)
5.ADD the Cocktails with Mom text link or button to your blogroll or sidebar (5 entries)
6.LEAVE a comment on a non-giveaway post (Come back and let me know that you did!)(can be done up to 5 times)
7.BLOG about this giveaway and leave the link to your blog post in the comments. (5 entries)
8.SHARE this Giveaway on Facebook via the share button below ( 2 entries)
Rules:
Open to US/Canada
Include email address with first entry
Winner will be chosen by random
Giveaway ends 10/27/11 at 11:59 CST
Winner will be emailed and must respond within 48 hours or another winner will be selected.
Disclosure: I received the mentioned product to facilitate my review.? Opinions expressed are my own.