This is a promotional post for VeeV. All opinions are my own. 
In association with Klout I was lucky enough to receive two bottles of Veev VitaFrute. These new pre-mixed alcoholic cocktails are organic, all natural, and only 125 calories per a 3 oz serving.
VitaFrute is available in the following varieties:
Margarita
Lemonade
Cosmopolitan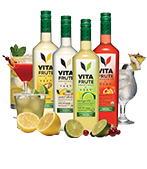 The alcohol base of all three cocktails is Veev, the world's first Acai Spirit.
And now for the tastings!
It was a super hot day and I managed to persuade a friend to help me in this arduous task. We tried the Lemonade first, over ice.  It was really refreshing and just what we needed! It had a very strong citrus taste and I was surprised how alcoholic it felt – often pre-mixed cocktails are little more than soda! But this tasted like a real grown-up treat.
Then we tried the Cosmopolitan. I'm not a huge fan of cranberry but this cocktail was really well balanced. It had a lovely fruity refreshing taste; probably slightly lighter to drink than the lemonade – so we probably should have tried them in the other order!
Learn more about VeeV and VitaFrute by following on Twitter, Facebook or Instagram.
VeeV is an alcoholic beverage. Please drink responsibly.