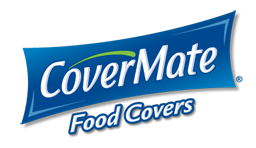 How many times have you leftovers in a bowl or dish but didn't have a lid so you had to transfer everything into different storage containers?? That's happened to me on many occassions and since I don't like washing dishes I end up covering it with plastic wrap or foil only to have it come loose and whatever it is I'm covering ends up stale or leaking.?? Now I don't have to worry about that happening.? I've got Cover Mate Food Covers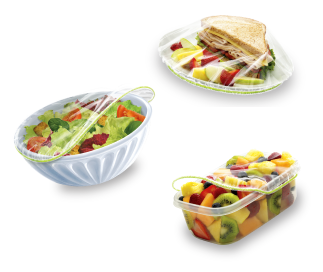 Cover Mate Food Covers come in a variety of sizes from individual cans to extra large.? What's even better, they fit odd shaped containers and bowls and they're washable.? They can even be thrown in the top rack of the dishwasher, how neat is that. What makes Cover Mates Food Covers different than other brands, they're made from FDA-compliant food-safe material free of BPA, PVC and latex.
We went to a friend's for a BBQ a few weeks ago and I took some Pepperoni Bread.? I sliced the bread and put it in an oblong container I didn't have the lid for but it didn't matter since the bread was over the top of the container and the lid wouldn't work anyway.? One Cover Mate and I was good go to.? Later as we were cleaning up there were leftover chips in a bowl but the bag had gotten thrown in the garbage.? No problem, the Cover Mate fit over the top of the bowl and the chips were safe and going to stay fresh for a while.? Cover Mates can also be used in the microwave to heat food as long as you follow directions and leave at least 1 inch between the food and the plastic, allowing 1 minute for the steam to escape and use caution when removing the Cover Mate from the container.
A variety pack of 10 can be purchased for $3.99 at stores like Target.
A product was received for review. I was not paid in any form of cash for this posting. The opinions expressed are my own and were NOT influenced in any way.
Photo Credit:? http://www.covermatecovers.com/index.htm