Mistletoe
Mistletoe: 1 part tequila, ? part
triple sec, ? part cranberry juice, Champagne. Mix first three ingredients, fill glass with champagne and serve
?
?
Santa's Pumpkin Pie Martini

Gotta Love the name of this One.? It is sure to be a crowd pleaser.? The Ingredients:
1/2 oz. Stoli Vanilla (optional to give it kick)
1 oz. Pumpkin Spice liqueur (such as Hiram Walker)
1/2 oz. Kahlua
1/2 oz. Butterscotch Schnapps
1/2 oz. half-and-half
Crushed graham crackers
Cinnamon stick (garnish)
Preparation:
Add all liquids in a shaker filled with ice. Shake and strain into large martini glass rimmed with crushed graham crackers. Garnish with a cinnamon stick.
courtesy: fineliving.com
Icy Holiday Margaritas

For this Icy treat you will need:
?1/2 cup frozen cranberry-rasberry juice concentrate,thawed
1/4? cup orange liqueur
1/2? cup tequila
3? tablespoons melon liqueur
5? cups ice cubes
Multicolored coarse decorating sugar (optional)
Light-colored corn syrup (optional)
Directions
1.In a blender combine juice concentrate, tequila, orange liqueur, and melon liqueur. Cover and blend until combined.
2. With blender running, add ice cubes, one at a time, through opening in lid, blending until slushy. If desired, dip rims of six glasses into corn syrup and then into decorating sugar placed in a shallow dish. Pour blended mixture into glasses. Makes 6 servings. Courtesy: BHG.com
Baileys Irish cream Shaken with ice with a hint of Mint Chocolate
Fill a cocktail shaker with plenty of ice.??Pour in?3.5oz of Baileys Irish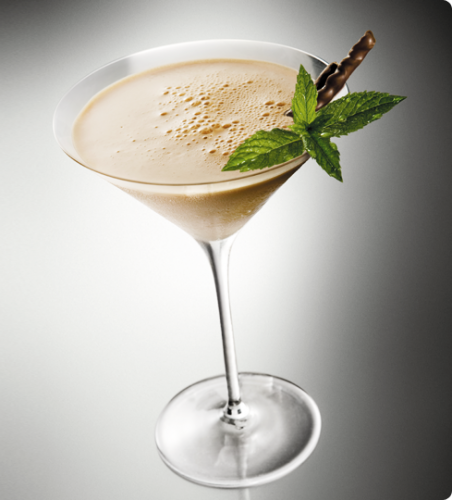 cream with a hint of Mint Chocolate per person.??Shake vigorously?and strain into martini glasses.??Garnish with dusting of chocolate or cocoa powder .? Enjoy!? Courtesy of Baileys.