?
?
?
Granola costs an arm and a leg in the grocery store, which I realized about a year ago after I seemed to lose massive amounts of money every time I went shopping. But here?s the good news: granola is a snap to make yourself, and baking homemade granola is MUCH cheaper than buying it. It also tastes better, and it?s completely customizable. For example, I?m allergic to nuts. While it?s tough to find a variety of nut-free granola at the store, I can whip up a batch of my own anytime.
?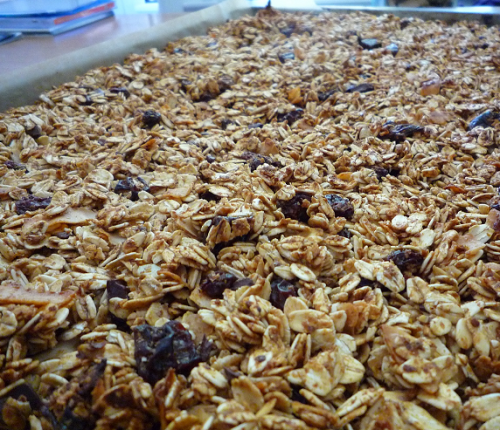 The ingredients below are what I usually use, but the specifics are totally up to you. Start with a base of oats and go crazy.
??

?
?
?
?
?
?
?INGREDIENTS:
–????????? 4 c. rolled oats
–????????? 1/2 c. shaved coconut
–????????? 3/4 c. dried fruit (I like tart cherries)
–????????? 1/2 c. wheat germ
–????????? 2 tsp. cinnamon
–????????? 2 T. unsweetened cocoa powder
–????????? 1/3 c. diced dark chocolate
–????????? 3/4 c. milk or soy milk
–????????? 3/4 c. honey
?
1.????? Preheat the oven to 325 degrees.
2.????? Mix up all the ingredients except the last two in a large bowl.
3.????? Add the milk or soy milk and stir again. The granola should become evenly moist but not at all sticky and not too wet. If most of it is still dry, pour in a little extra milk.
4.????? Put in the honey, and stir again. Work it evenly into the whole mixture. After you stir it in, the granola should be sticky. If it isn?t, put in more honey. More is usually better.
5.????? Place a large piece of parchment on the biggest baking sheet you have, and spread the granola in an even layer on the sheet. If you feel you have too much for one sheet, divide it between two. Press the granola down lightly with a spatula on the sheet.
6.????? Bake at 325 for about 15 minutes. Take the sheet out and rotate it, then return it to the oven for another 15 minutes. When the granola is golden brown at the edges, it?s done.
7.????? Let the granola cool in the pan for at least an hour or until it becomes crispy. Then you can break it off in large chunks and store it in an airtight container for several weeks. Enjoy!
?
Makes about 7 cups of granola