~Thank you Fruit Shoot for sponsoring this post and help bring imaginative play outdoors~
It's summertime and my boys love the outdoors! I love that they love the outdoors as much as I do because it's a great way for them to keep fit and have fun. They have been enjoying everything from swimming at the pool, playing basketball,skating and just running around with friends. But whatever the activity is, by the time they are done. They are looking for something to quench their thirst.
As a mom, I am always pushing my kids to drink more water-but kids are kids and sometimes they want more. So if I give in, it will have to be something I approve of like Fruit Shoot! Here's why:
Robinsons Fruit Shoot is a Fun Fruit Juice?Drink designed especially for kids! It contains real fruit juice, no artificial colors, sweeteners or flavors. All of these facts make this a much healthier option than other fruit drinks. It also has a no-spill cap, which is great for on the go and come in yummy flavors like Apple, Berry Burst, Orange, & Strawberry Raspberry.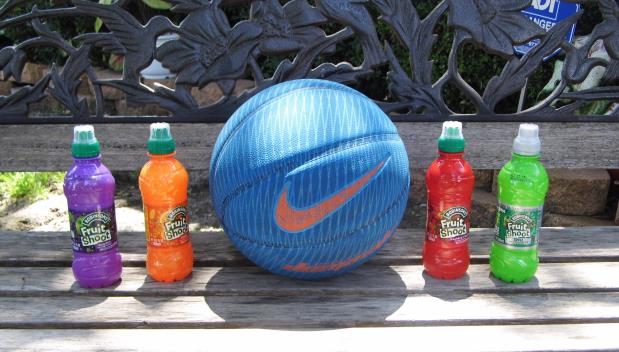 Fruit Shoot ?Have a Ball Stunt Hunt?
Right now Fruit Shoot is celebrating imaginative activities with a really special competition. Fruit Shoot is looking to families across the U.S. to share videos of your kids doing amazingly active stunts. All you need is a smartphone, a Fruit Shoot bottle, a ball, and some imagination. You'll also receive a coupon for a free bottle of Fruit Shoot just for registering!
My boys are always coming up with games to keep them entertained and they love to make movies as well so this was lots of fun for them.
Check out our entry balling around with Fruit Shoot.
See how you can enter below or check out this? video for instructions on making your video submission:?
Competition details: The ?Have a Ball Stunt Hunt? competition is a great demonstration of Fruit Shoot?s commitment to imaginative play and has a reward that is priceless. Here?s how it works:
1. Simply visit the contest homepage to upload a video of your kids showing off their best tricks, stunts, and super-cool abilities and talents using a Fruit Shoot bottle and any small ball!? You can even record the video with your phone (so easy!) Just make sure your video is under 30 seconds. Check out my video above to get an idea.
2. Share your video with friends and family and encourage them to vote for your video.
3. Every week, they will chose a winning video, give it the full-on Hollywood special effects treatment, and release it on their contest homepage for the world to see!
Have fun making your video and let us know if you entered!
What type of imaginative play does your kids engage in?