"I participated in an Influencer Program on behalf of Mom Central for Dove. I received a product sample to facilitate my review and a promotional item to thank me for participating."
I don't ask for a lot when it comes to deordorant.  I just want something that's going to keep me dry and fresh throughout the day and not have me smelling slightly like my shirtless husband on a warm sunny day.  All I ask is for a little freshness!
Dove's new advanced care is the only Anit-Perspirant/deordorant formulated with Nutrium Moisture to provide the best care ever.  It moisturizes underarm skin and provides softer smoother underarms in just 3 days.  I have very sensitive skin and have a tendency to break out and have chemical reactions to different products in my underarms so knowing that Dove Advanced Care will help keep that area moisturized is very reassuring and I couldn't wait to try it.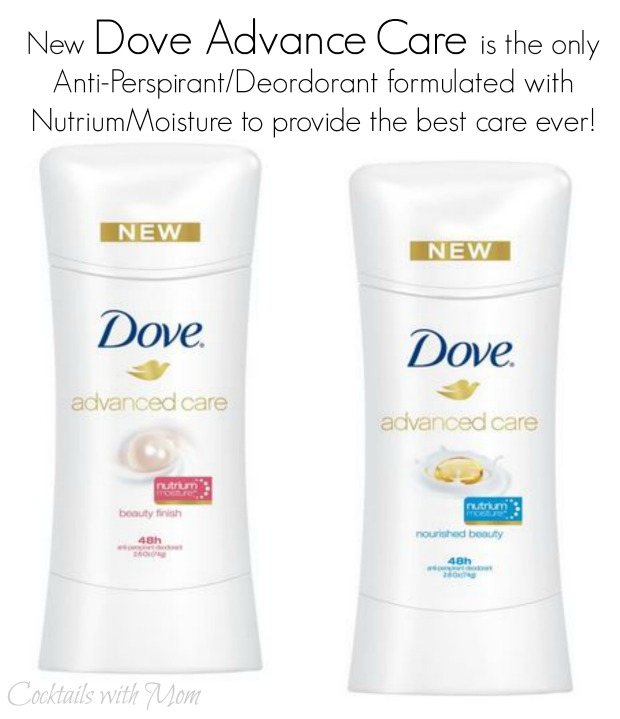 I received the Noourished Beauty and Pink Rosa scents to try and have been using them long enough to say theat, yes, the do provide great protection and that my underarms also feel softer and smoother as well.  I still can't determine which scent I love the best because they both smell so good.  Sometime's it's hard to make up my mind which one I want to use when I get out of the shower.
I like how it keeps me smelling fresh and protected throughout the day.  The stuff really works!  I've always been a fan of Dove products but this one has me convinced.
AVAILABLE SCENTS

Nourished Beauty – A floral powdery fragrance with notes of  jasmine and rose
Cool Essentials – A delightful blend of cucumber and green tea
Beauty Finish – A sparkling, sophisticated scent with notes of  watery florals, sandalwood and amber musk
Revive – A fragrance of pomegranate and lemon verbena
Rebalance – A scent of plum and sakura blossom
Shea Butter – A floral, powdery fragrance with notes of shea  butter, rose, vanilla and lily of the valley
Sensitive – An unscented, hypo-allergenic formula
NEW Caring Coconut – A light coconut scent with jasmine floral notes
The full line of Dove Advanced Care is available at mass food and drug retailers nationwide.  For more info visit Dove.com