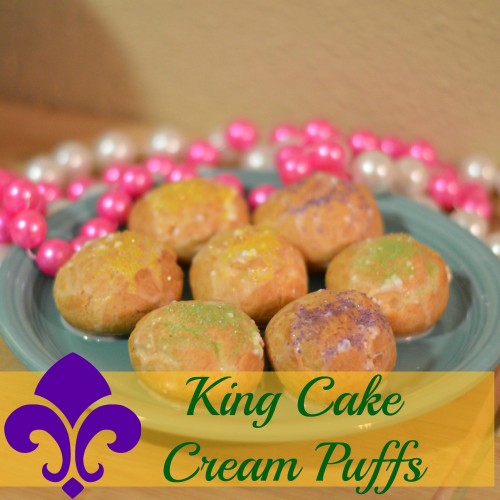 Mardi Gras is just around the corner and one of my favorite things about Mardi Gras is King Cakes!  If you have never had one they are like heaven!  So as I was thinking about things I want to bake that I've never made before Cream Puffs came to my mind.  Cream puffs are also very heavenly, so I thought what if I made a King Cake Cream Puff!  I started off by finding a good cream puff recipe with a cream cheese type filling!  My favorite king cakes have the cream cheese fillings!  I found this recipe on Real Mom Kitchen for a lime cream puff but I thought the filling looked perfect.  I used her recipe except without the lime or food coloring!

King Cake Cream Puffs
:
Cara Kueck from Craft Dictator
Ingredients
For Puff:
½ cup butter (1 stick)
1 cup water
⅛ tsp. salt
1 cup all purpose flour
4 eggs
For filling:
1½ cups heavy cream
12 oz. of cream cheese, softened
1⅛ cup powdered sugar
For Topping:
1 cup powdered sugar
4-5 tsp water
Instructions
To Make Puffs:
Preheat over to 400 degrees F
In saucepan, combine butter, water and salt and bring to a boil. Add flour, stirring rigorously until the mixture forms a ball. Remove from heat and cool for 10 minutes.
Add mixture to a mixer, and beat eggs in one at a time until smooth. If you don't have a mixer, mix with a wooden spoon.
On a cookie sheet, drop batter by teaspoons about 4 inches apart. (I used my cookie scoop to drop the batter. I got 26 puffs)
Bake for 25-30 minutes or until golden. DO NOT open the oven to check until 25 minutes of bake time is over; the puffs will collapse if oven is opened too early. Cool on wire rack.
To make the filling:
Beat heavy cream with a mixer until whipped, and set aside in a bowl in the refrigerator.
Then start blending the cream cheese with powdered sugar, adding a little sugar at a time until combined.
Fold in ⅓ of whipped cream by hand until well blended with cream cheese. This will help lighten the cream cheese making it easier to fold in the remaining whipped cream. Then fold in remaining whipped cream.
Fill puffs with cream. I used a bag and tip for icing to fill them and they just have a small hole in the side. You can also cut them in half and fill them that way.
To Make Topping:
Mix 1 cup of powdered sugar and 4-5 tsp of water or as much water it takes to get to the consistency you want. I make my topping a little runny so that it would just run off the side of the puffs. I then added purple, green, and yellow sprinkles to the top!
Notes
Based on Real Mom Kitchen's Lime Cream Puff Recipe http://www.yummly.com/recipe/external/Lime-cream-puffs-351113
First you want to start with making the puffs.  I put my butter, water, and salt into a pan and brought it to a boil.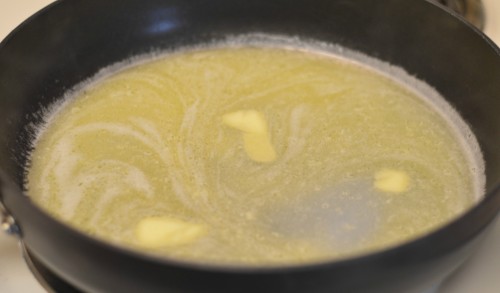 I then added my flour stirring continuously until it started to look like dough.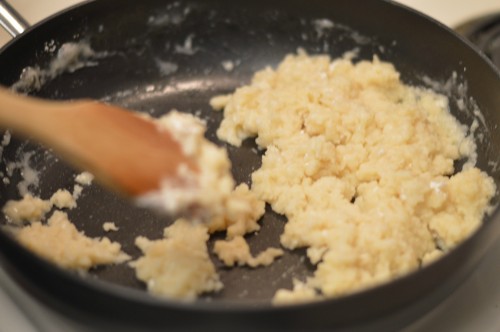 Once it was smooth I took it out of the pan and put it in a bowl to cool for about 20 minutes.  At 10 minutes like the recipe said mine still felt a little warm so I decided to wait a little bit longer.  You want it to be cool so it doesn't start cooking your eggs when they are added!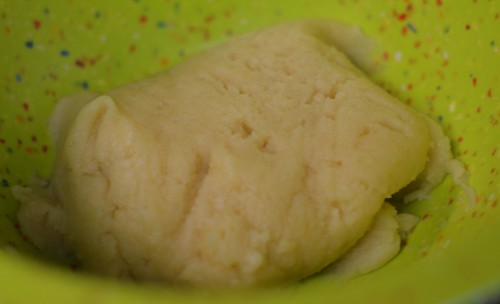 Once this had cool I started adding the eggs one at a time.  The batter becomes smoother and thins out.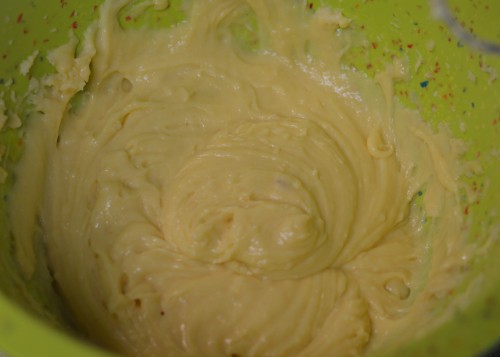 I then used a cookie scoop to scoop them all out onto the pan.  You don't want them too close because they do spread some.  I could get about 12 on a regular sized cook pan.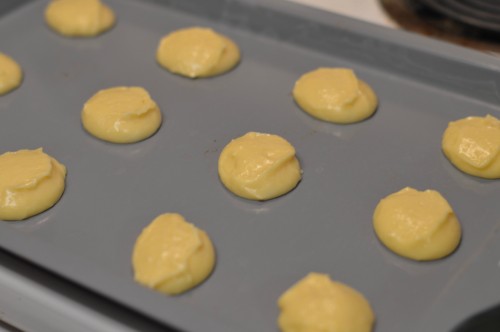 I then let them bake at 400 degrees F for 25 minutes.  Make sure to not open the door at all until 25 minutes because they will flatten out!  This is a huge step in the recipe so make sure you do this!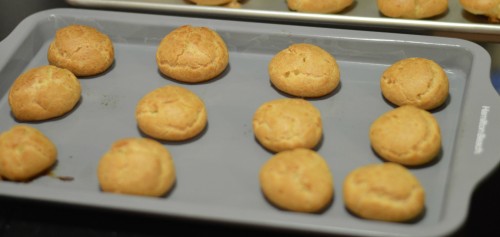 Once they had cooled for about an hour I made the filling and started to put it into the cream puffs.  The filling is similar to a cream cheese icing.  I used a pastry gun with a metal tip to inject my cream puffs.  You can also cut them in half and put the filling in the middle and make something that is like a sandwich.  Injecting them was really easy it just created a small hole on the side of the pastry.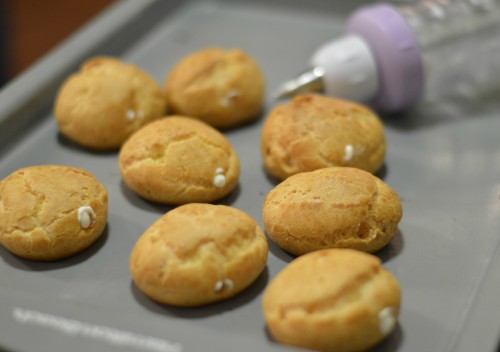 They were now ready to decorate!  I decided to make them look like a king cake so I added a basic powdered sugar and water icing to them.  I made it pretty thin so it would drizzle over the puffs.  I then added purple, green, and yellow sprinkles to the top!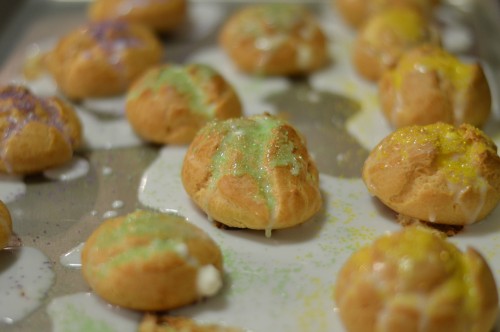 I let the icing set for about an hour and then they were ready to eat!  These were delicious and I was told that they tasted like the kind you get in the store so I will take that as a success!  These are great for any party or event you are going to and they don't take much time to make!