This post brought to you by PeiWei. All opinions are 100% mine.
Thinking of grabbing a quick lunch or a delicious dinner? Your local Pei Wei got you covered with their lively and fast casual dine-in experience and their super speedy and convenient to-go service. Whether you're in a hurry to get back to the office or need a fast but delicious dinner, Pei Wei® Asian Diner knows exactly what you need. For now, what you need is their new Sriracha Pineapple Pork Lettuce Wraps.
Here are five reasons why you'd looove to have a bite of this new menu item.
It's the newest item in the popular lettuce wrap line up.
Joining the hugely popular Traditional Chicken, Thai Chicken and Korean Steak, Sriracha Pineapple Pork Lettuce joins the bunch, providing a sweet, bold, and spicy complement. But this limited-time offering is available until December only, so hurry!
It's bursting with flavor!
Sriracha Pineapple Pork Lettuce Wraps feature all-natural, wok-seared pork and a yummy combo of fresh cut ingredients—pineapple, red onions, and red and green peppers—topped with a spicy kick of Pei Wei's own Sriracha sauce and served with cool, crisp lettuce cups! It's quite satisfying but light on the stomach too!
Yum!
The price is so right!
You can get this awesome meal for only $6.95!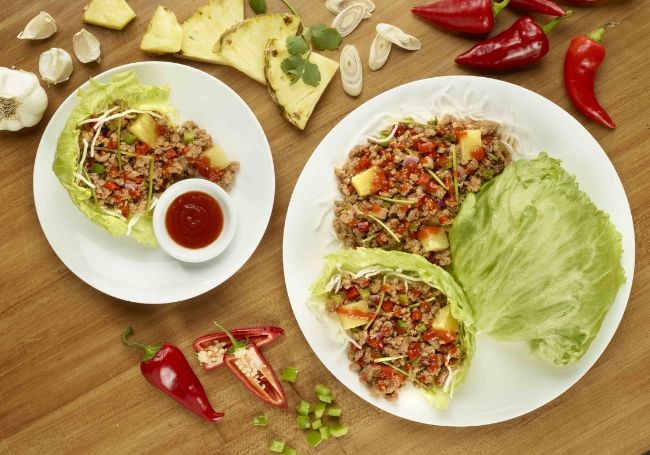 Unbelievable!
It goes great with a variety of choices.
You can eat it with Pei Wei's Thai Wonton soup, a Vegetable Spring Roll, edamame, or on its own. It's totally up to you – because it's great whichever way you choose! Sriracha Pineapple Pork Lettuce Wraps can also make a tasty, shareable (or not!) appetizer before you dig into one of Pei Wei's signature entrees or noodle bowls.
It's made by people who are great at what they do.
Pei Wei Asian Diner is owned and operated by P.F. Chang's China Bistro, and they offer a menu of high-quality and fresh Asian-inspired cuisine that features 35 flavorful hand-cut ingredients. Each dish is served fresh, and because it is wok'd to order, it is customizable to fit your individual preference too! They also have vegetarian and gluten-free dishes in their menu!
Have you had time to Explore the full Pei Wei Asian Diner menu yet? What makes you excited to try out the new Pei Wei Sriracha Pineapple Pork Wraps?
To stay posted with their delightful offerings, be sure to: