I love pasta.  All pasta actually….but my favorites are spaghetti and lasagna. It is the only food I actually crave. Even now my mouth is filling with saliva at the very mention of it.  When I moved to Texas a few years ago, I quickly learned that there a few staples you rely on in the kitchen and Skinner Pasta happens to be on of those.  I actually never heard of it until we moved here but now it is my go to pasta when cooking up my favorite dishes.
Dinner time is special for our family.  Not only is it time for a great tasting home cooked meal, it brings about togetherness and holds a lot of special memories.  Skinner Pasta has been a part of Texas family meals for 100 years so in celebration of their 100th year anniversary, they are celebrating ten decades of of Texas mealtime traditions with their 100 Years of Mealtime Memories essay contest.
Now through May 14, 2012, Skinner Pasta invites families from the Texas region to share an original story of a favorite mealtime memory with Skinner Pasta in 250 words or less.  One essay will be awarded the $10,000 Grand Prize and four runner-ups will receive $1,000 to help them continue the tradition of creating mouth-watering mealtime traditions.
How can you  enter?
Submit one(1) essay in 250 words or less sharing an original story of a family mealtime memory with Skinner Pasta.  There are 3 ways of entering.
Visit www.skinnerpasta.com
Visit the Skinner "100 Years of Mealtime Memories" Essay Contest tab on the Skinner Facebook page . If entering via the Skinner Facebook page you must first "like" the page.
Mail essay in self addressed envelope to: Cohn & Wolfe, 200 5th Avenue, 7th Floor,New York, NY 10010
 Buy It:
Skinner pasta can be purchased at your favorite Texas grocery store such as H-E-B, Fiesta, Foodtown, and others. If you haven't yet tried it, you really should.   Prices are reasonable and it tastes good.  They also come in a variety of noodles ranging from $1.60 – $1.85.
Win It!
One Cocktails with Mom reader will win a Skinner Pasta mealtime kit that includes:
Two boxes of Skinner® Pasta
One colander
One set of Texas-themed serving utensils
Two Skinner® Pasta recipe cards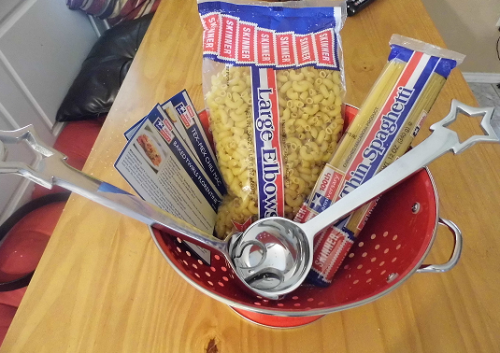 Mandatory Entry: Tell me your favorite family meal time memory.
Extra Entries:– 1 entry each- leave a comment for each one.
Subscribe to Cocktails with Mom by reader or email
Like Cocktails with Mom and SkinnerPasta on Facebook
Follow Cocktails with Mom and  Skinner Pasta on Twitter
Tweet this message- " Enter to win a Skinner Pasta Mealtime Memory Kit from @momcocktails and @SkinnerPasta http://bit.ly/y2e44v #giveaway " 1 entry per tweet and you may tweet 2 times a day. Be sure to leave the tweet URL in your comment.
LEAVE a comment on a non-giveaway post (Come back and let me know that you did!)(can be done up to 5 times)
Rules:
Open to US only
Include email address with first entry
Winner will be chosen by random
Giveaway ends 3/27/11 at 11:59 CST
Winner will be emailed and must respond within 48 hours or another winner will be selected.
All opinions expressed are 100% my own. I was sent the same giveaway package a winner will be receiving. This in no way influenced my opinions on this post.

A Skinner Pasta Recipe
Nana's Spaghetti and Meatballs
Created by Robb Walsh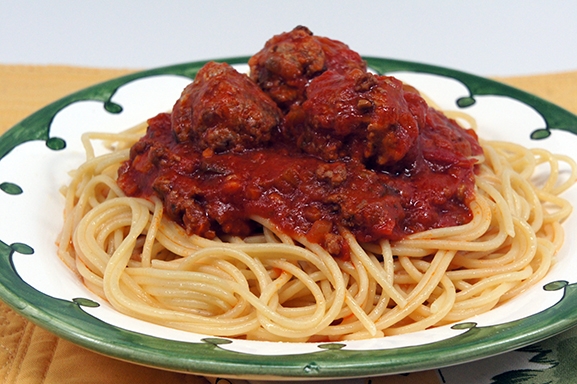 Spaghetti and Meatballs Ingredients:
1 (12-ounce) package Skinner Spaghetti
6 cups Nana's Red Sauce
18 Nana's Meatballs
1 cup grated Parmesan cheese
Crushed red pepper to taste (optional)
Directions:
Boil the spaghetti in briskly boiling salted water according to package directions. Drain and rinse well. Toss the spaghetti with the red sauce in a large mixing bowl combining thoroughly. Put the spaghetti in a serving bowl and top with the meatballs. Sprinkle with a little Parmesan cheese. Put the rest of the grated Parmesan cheese and the crushed pepper on the table and let diners add their own. Servings: 6
Note: If you make spaghetti and meatball using the red sauce recipe, you should have around four cups of red sauce left for another meal.
Meatball Ingredients:
1 ½ pound ground beef
½ cup bread crumbs
1 ½ cups finely chopped onion
2 cloves garlic, minced
¼ cup loosely packed chopped parsley
2 tablespoons dried ground oregano
2 eggs
Freshly ground black pepper
2 tablespoons parmesan
1 teaspoon salt or to taste
Nana's Red Sauce
Directions:
Combine all ingredients, except red sauce, in a large mixing bowl and mix well, blending all ingredients into a uniform texture. In your cupped hand, form 34 to 36 small (one ounce) meatballs. Drop meatballs gently into Nana's Red Sauce. Simmer, stirring gently every fifteen minutes to avoid breaking up the meatballs. Cook for 45 minutes to one hour or until meatballs are well done.
Nana's Red Sauce Ingredients:
1 tablespoon olive oil
1 pound ground sirloin
1 pound Italian sausage, casings removed
4 cups chopped onion
1 cup chopped celery
1 cup grated carrot
3 tablespoons minced garlic
1 cup white wine
2 (28-ounce) cans crushed tomatoes
1 (46-ounce) can tomato juice or V-8
2 (6-ounce) cans tomato paste
2 (15-ounce) cans tomato sauce
1 cup chopped parsley
½ cup coarsely chopped celery leaves
1 tablespoon dried oregano leaves
2 tablespoons dried basil leaves
1 teaspoon freshly ground black pepper
1 teaspoon crushed red pepper (optional)
Directions:
Heat the oil in a Dutch oven over medium high heat. Brown the beef and sausage in batches, transferring the browned meat to a bowl with a slotted spoon. When the meat is all browned, reduce the heat to medium and add the onion, celery and carrots. Use the vegetables to deglaze the pan scraping up the browned meat that stuck to the bottom. Cook for three minutes until the vegetables begin to soften. Add the garlic and stir to mix well. Cook another two minutes until the onions are translucent. Add the white wine and turn the heat to high stirring constantly for three or four minutes or until the white wine is reduced by half. Add the crushed tomatoes, tomato juice, tomato paste and tomato sauce, mix well and bring to a boil. Reduce the heat to a simmer and add the cooked meat and the remaining ingredients, stirring to combine. Simmer for two hours stirring every fifteen minutes.