Kids love their snacks. Even though parents struggle to keep snacks off the table during mealtimes, it?s hard to keep kids away from their snacks during the day. This is mostly because kids usually have strong metabolisms and they burn a lot of calories. As a result, they feel hungry and are tempted to eat often. While this is not wrong in itself, eating snacks in between mealtimes can have disastrous results. Most commercial and fast food snacks are high on salt, fat and sugar. Your kid could easily cross his or her recommended weight threshold and develop obesity-related issues in their youth itself. To prevent this, give them all the snacks they want to eat, but healthy ones. Here are 10 healthy, heart-friendly snacks for your kids.
Colorful Frozen Yogurt Sticks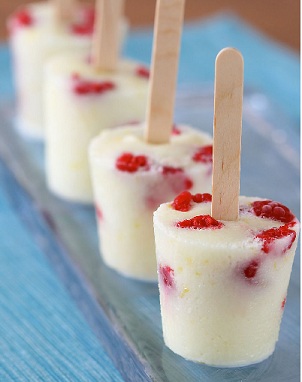 You can buy this snack off of any supermarket shelf. They?re called Frozen Danimals, and are made out of low fat yogurt that?s natural, frozen in a tube or a cup along with mashed fruit. This snack contains no artificial flavors, artificial colors or high-fructose corn syrup. The sweetness comes from natural fruit sugars that are blended with the low fat yoghurt. These colorful frozen yoghurt sticks are a great heart-friendly snack idea for kids.
Fruit Smoothies
The next time your kid hankers for a snack, whip up a fruit smoothie. You can throw in any kind of fruits into the smoothie, as long as they all blend well together. Create berry smoothies with blueberries, strawberries and blackberries. The fruit sugars will sweeten the smoothies, there?s no need to add sugar. If you do need additional sweetness, a couple of spoons of honey or brown sugar should do. Keep plenty of low fat yoghurt at home and fresh fruit from the farmer?s market and whip up smoothies whenever the mid-afternoon hunger pangs make your kids want to reach for those crisps!
Healthy Quesadillas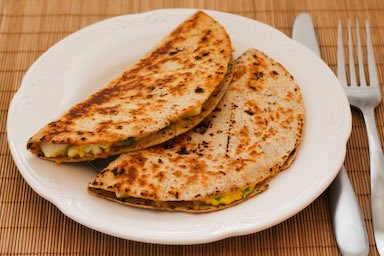 Melt and blend low-fat cheeses, and add cooked spinach, corn or broccoli to it. Layer the blended cheese and vegetable topping on slightly crisp tortillas for a shortcut to the popular quesadilla. Your kids will love it and it doesn?t take much time to cook either.
Fruit Salad With Yogurt Dip
For an interesting take on the ubiquitous smoothie, serve fruits and yoghurt separately. Cut red and green apples, pineapples, strawberries, peaches and watermelon into long, finger shaped pieces. Make a delicious yoghurt dip. You can make a sweet dip by blending yoghurt with honey, or even create a slightly spicy dip by blending yoghurt with spices. Your kids will enjoy dipping the fruit pieces into the dip and licking the dip off before eating the fruit.
Pita Pizza
Pizzas are made out of rich white flour, which causes cholesterol and triglycerides building. Definitely not good for the heart. Instead of feeding your kids the regular pizza as a snack when they?re hungry, create your own healthy version of the pizza. Toast pita bread till crisp and warm, add pizza sauce that has no added color or preservatives to it, pile on the toppings and layer with low fat melted cheese. Cut the pita pizza into sectors. Your kids will get the healthy whole-wheat pizza plus the vegetables.
Vegetable Sticks With Hummus Dip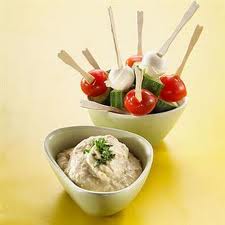 Make your own version of hummus; spice it up with Dijon mustard, French mustard or English mustard, or use your own spice mix. You can even make a sweet hummus dip by using honey. Cut long fingers of colorful peppers, cucumber, firm tomatoes and broccoli. To make this dish more filling, cut up toasted pita bread into long sticks. You can also add baby carrots to the mix, as they are sweet, extremely nutritious and kids love them!
Power Balls Made Of Peanut Butter
For smaller kids who get irritable now and then when you deny them snacks, something sweet always works. Make a pile of different kinds of raisins and sultanas; make sure they?re deseeded. Add milk powder, honey and crunchy peanut butter to this mix. You can even add toasted and broken nuts to this mix. Roll up the mix into balls; coat the balls with graham cracker crumbs so that they hold their shape. You can make these lovely treats in advance and store them in your freezer.
Whole-wheat Crackers With Peanut Butter
Here?s another quick and very healthy snack that you can put together in a jiffy. Buy whole-wheat crackers from a natural foods store. Toast them lightly to bring out the flavor. Layer them on a round plate and place a small cup in the middle for the dip. Make a dip using peanut butter and honey; make sure you beat the mix well with a spoon to ensure it?s smooth and silky. Check that your brand of peanut butter does not contain high fructose corn syrup.
Low Fat Granola Bars
Buy granola bars that have oats, crushed nuts and dried fruits in them. Make sure they?re free of high fructose corn syrup. Also, avoid granola bars that contain pieces of candy, icecream sprinklers, caramel and other items made of refined sugar.? The best thing about granola bars is that you can buy them, stock them and have them ready at a moment?s notice. They are great for taking along on trips as well. They?re full of natural sugars and carbohydrates that?ll keep your kids satisfied and full for a long time.
Whole-wheat Or Rye Bread Sandwiches
The quickest and simplest snack to put together is a sandwich. Yes, tried and tested and perhaps not very imaginative but you can do creative things to make the sandwich a treat. Cut the whole wheat bread into interesting shapes using cartoon-shaped sandwich cutters. Layer the slices with homemade fruit preserves, or low fat cheese. You can even make fruit sandwiches. Combine fruit and cheese together for a tasty, filling and nutritious treat.