---
Summer is coming to an end and the signs of fall are already in the air. The end of summer means that you need to get your car ready for fall. How to get your vehicle ready for fall? Here are some practical tips to get your car ready for fall.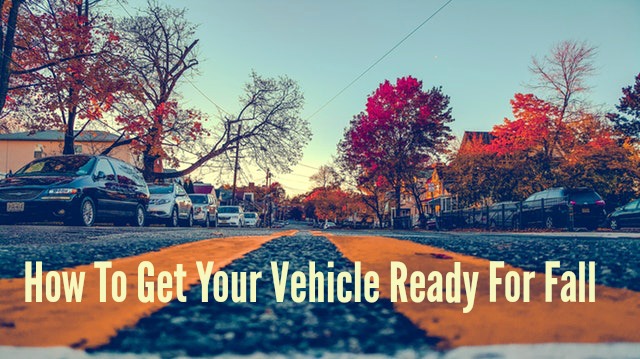 It can be quite stressful if your car battery dies unexpectedly in the cold weather. If you want to avoid this unpleasant experience, it is advisable to get the battery checked by trained and experienced mechanics. The battery needs to be fully charged if you want to start your car in the cold fall weather.
Check the Brakes and Tires
Bad brakes can be bad in any weather. The car brakes need to be in excellent condition so that you are able to drive safely in the inclement weather. The tire pressure also needs to be checked at regular intervals. Remember that tire pressure drops when the outside temperature starts to dip.
Check the operation of all lights – headlights, brake lights, taillights and parking lights. All bulbs that have stopped working or broken need to be replaced. The lights need to be clean for clear visibility and safe driving.
Rain and snow are common in fall and it is important that the wiper blades are in good condition. If they are damaged or not working properly, you need to get them replaced immediately.
Ensure Heater and Defroster Work
Driving with fogged windows can be dangerous. Before you start driving your vehicle in fall, you need to ensure that the heater and defroster systems are working properly. This can help you drive safely in the cold weather.
It is always advisable to get your car serviced before fall. This will ensure that it runs as good as new.
In the market for a new or pre-owned vehicle?
Let Brown's Alfa Romeo in PATCHOGUE, NY, our partners for this feature cater to the needs.  The success of a smooth drive always lies with the reliability of the vehicle you own.
Save